Tom Izzo reveals key to Michigan State's success vs. USC's size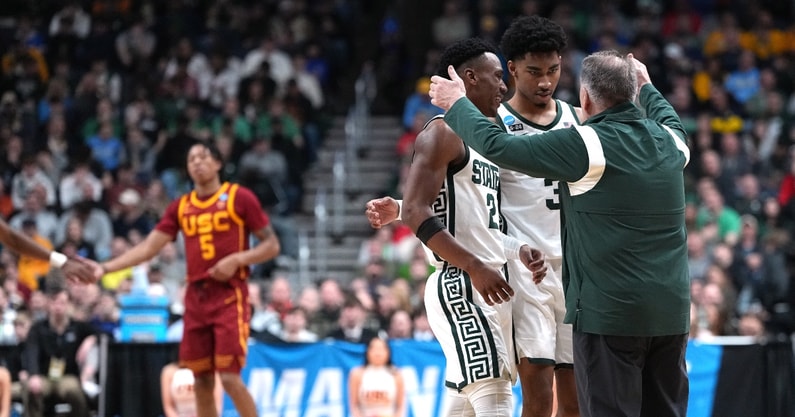 Size and length are two things USC has utilized to its benefit all season long. Heading into the NCAA Tournament, Michigan State head coach Tom Izzo recognized this, so his team had to rely on their defense to advance.
It worked — and the Spartans handled business 72-62 against a tough Trojans team. After the game, Izzo revealed how his players worked around the Trojans' size en route to victory.
"Some of it was off of turnovers," Izzo said of how MSU played around USC's size. "They turned the ball over, not a ton, but we only turned it over seven times, which is seriously for one of my teams a North American record if maybe not a world record, and I thought that that made some difference.
"We got some points off turnovers. I thought we got some points off fast breaks. And if you defend better and rebound better you get more fast breaks. … I thought we spread them out a little bit on our ball-screen stuff. And we changed up a few things at halftime to slip those things. And I think it helped put them on skates like we were on skates the first, in that stretch in the first half."
Michigan State finished the game with 32 points in the paint — good for 44 percent of the Spartans' made baskets. Add 16 points off turnovers and eight offensive rebounds that led to three baskets while cashing in on 63 percent (12-19) of their attempts at the rim.
The Spartans notched seven steals on the night and forced 11 Trojan turnovers overall compared to USC's two steals out of Michigan State's seven total turns. Still, USC didn't score a single fast-break point during the entire game. They were only able to score 20 of their 62 points in the paint as well.
With a battle with Marquette looming, staying locked into their defensive assignments is something Izzo is likely searing into his player's brains. The Golden Eagles are one of the highest-scoring teams in the country averaging nearly 80 (79.9) points per game on the season — the Spartans only average 70.3 and have only surpassed the 80-point mark six times all season. Stout defense is nonnegotiable for Michigan State in this matchup.
The Spartans head into Sunday's Round of 32 matchup as 2.5-point underdogs against Marquette, per Caesars Sportsbook. Tip-off is scheduled for 5:15 p.m. ET and the winner will take on either Kentucky or Kansas State in the Sweet 16.