Tom Izzo says Mady Sissoko getting 'clocked' in Indiana game was 'B.S.'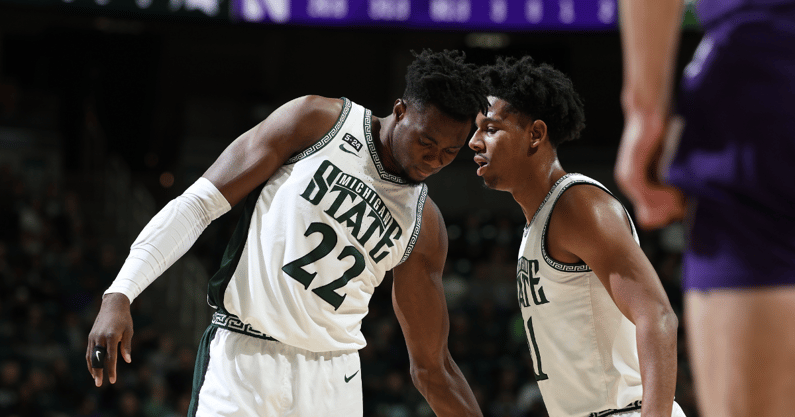 Michigan State center Mady Sissoko has had a painful last week of basketball. On two plays in separate games in the last seven days, Sissoko was flagrantly fouled by an opposing player — one of which was whistled as such, and the other turned out to be a foul on Sissoko himself.
On Martin Luther King Jr. day last Monday, Purdue's Zach Edey got tangled up with Sissoko on a rebound and spun him like a lasso before tossing him to the ground. But Sissoko was whistled for the foul because of the initial contact during the rebound while Edey's clear hook-and-hold (and worse) was ignored.
Then, during Sunday's loss at Indiana, Sissoko was fouled hard again, this time by Indiana's Miller Kopp. Unlike Edey — the current clear frontrunner for National Player of the Year — Kopp was not officiated so generously and was tagged with a flagrant one.
Two free throws for Sissoko and the ball for Michigan State. Justice served in that situation, though Tom Izzo was still irked about the dirty play after the game.
"I didn't think Mady played as well. I think he got clocked pretty good early, which I thought was BS," a frustrated Izzo griped in the postgame presser. Whether for getting clocked or just not bringing it vs. the Hoosiers, Izzo wants to see more from his big man.
"He just didn't seem himself. Yeah, he's gotta play better. Or we gotta rotate those guys in there more. We give up something, we get something. We get a better offense, we don't get a better defense. We're giving up something there, but that's why if we get Malik back we'll have options to do some things – or when we get him back."
For most of the year, Sissoko has been a big defensive plus. He played a great game earlier in the year against last year's NPOY when the Spartans took down Kentucky. Lately, though, he's struggled against some of the better bigs in the Big Ten.
Mady Sissoko already sustained head injuries this year and a hard foul like the one from Kopp was the last thing he needed. Hopefully he gets that head examined and makes sure he's healthy before going back out there to battle hard like the tough player he is.