WATCH: Last-second basket sends Michigan State past Minnesota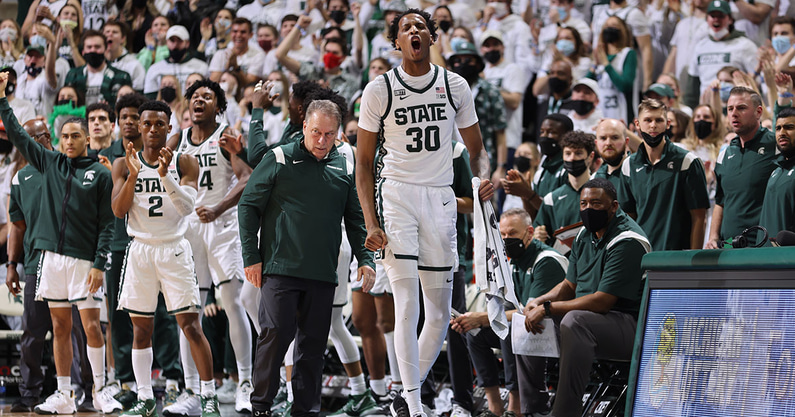 Joey Hauser had 10 points for Michigan State against Minnesota Wednesday night. But his biggest bucket came at — literally — the last second.
The Spartans and Golden Gophers were all tied up, 69-69, with 18 seconds left when Tom Izzo called timeout. That set up a backdoor cut from Hauser, who tossed in the game-winning layup with 0.1 seconds on the clock. The Spartans survived.
Michigan State had a 34-31 lead at halftime, but Minnesota roared back in the second half. Four Golden Gophers scored in double figures, but it wasn't enough to beat the No. 10-ranked Spartans.
The Spartans improved to 13-2-1 with the victory. The extra game on the Spartans' record is because they had to postpone their game against Michigan, which leaves it as a "no-contest" unless they can make it up, per Big Ten rules. The Wolverines also had to cancel Wednesday's game against Purdue.
Officials postpone Michigan vs. Michigan State rivalry game
Last week's rivalry matchup between Michigan and Michigan State men's basketball has been postponed due to COVID-19 related issues within the Wolverines' program, it was announced.
According to the release, the Spartans and Wolverines will "coordinate with the Big Ten Conference office to reschedule the game."
Saturday's meeting would've marked the 189th all-time matchup between Michigan State and Michigan, with the Wolverines holding a 102-86 lead in the series. Despite Michigan's lead, the Spartans have won four of the past six meetings after the two sides split in the 2020-21 regular season.
The Spartans returned to action Wednesday at home against Minnesota. Meanwhile, the Wolverines' game against Purdue was also postponed. But Big Ten Network's Andy Katz reports the Wolverines plan on playing their next scheduled game against Illinois.
The Wolverines previously announced their Tuesday, Dec. 21 game against Purdue Fort Wayne had been canceled due to COVID-19 issues within the Mastodons program.