WATCH: Michigan State basketball wins on alley-oop dunk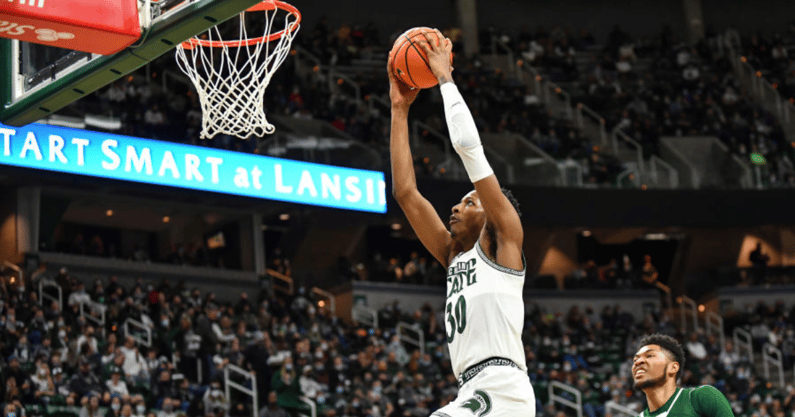 The Michigan State Spartans picked up a big non-conference win over mid-major powerhouse Loyola-Chicago Wednesday afternoon in the Bag Boy Mowers Battle 4 Atlantis. After trailing by five at halftime, the Spartans rallied back for a 63-61 win to improve to 4-1 this season.
Tied at 61 with 12 seconds remaining, point guard Tyson Walker dribbled into the frontcourt and used a screen from his center Marcus Bingham Jr. When the defenders collapsed on him – and the clock ticked inside six seconds – he threw the ball toward the rim for Marcus Bingham Jr to grab and dunk with 3.4 seconds remaining.
Now up 63-61, Michigan State hustled back on defense and forced a contested half-court shot to miss. Marcus Bingham Jr's dunk brought him to 11 points, nine rebounds and seven blocks with two steals in the game. The Spartans also got a lift from forward Malik Hall, who went 9-for-9 with 24 points.
After the win, the KenPom analytic rankings list Michigan State at No. 20 in the country and Loyola-Chicago and No. 34, both within the range of at-large NCAA Tournament teams.
Tom Izzo unhappy with AP Poll
Michigan State men's basketball head coach Tom Izzo is not pleased that his Spartans did not appear in the preseason AP Top 25 this season.
"It does tick me off," Izzo said last month. "But I understand it."
The Spartans enter the 2021-2022 season unranked before a season for the first time since the 2011-12 season. Michigan State did receive the most votes among unranked teams. Tom Izzo's squad lacks a star player and is coming off an offseason full of attrition. The Spartans lost Rocket Watts, Foster Loyer, Thomas Kithier and Jack Hoiberg to the transfer portal. Aaron Henry, last season's scoring leader, skipped his senior season to enter the NBA draft and Joshua Langford's five-year career ended.
Last season, the Spartans snuck into the NCAA Tournament after going 15-13 and below .500 in conference play for the first time in Izzo's 27 seasons with the program.
Michigan State returns seven players with experience this season including Joey Hauser, who averaged 9.7 points per game last season and senior guard Gabe Brown. The Spartans also added four-star Max Christie, who was rated No. 20 in the country in the On300 rankings, four-star point guard Jaden Akins, who ranks No. 49, and four-star small forward Pierre Brooks, who ranks No. 54 in the country.