WATCH: Tyson Walker's last-second shot sends Michigan State to upset of No. 4 Purdue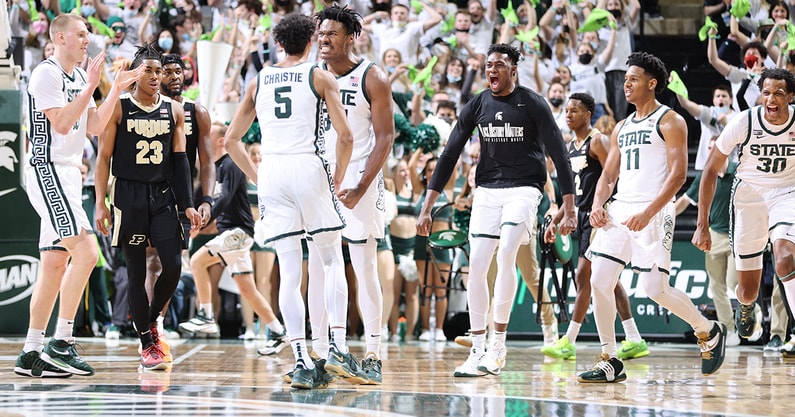 Tyson Walker didn't have a field goal in the second half of Michigan State's game against Purdue on Saturday. That is, until 1.4 seconds left when he hit one of the biggest shots of his career.
Walker pulled up from three-point distance and drained the shot to send the Spartans past No. 4 Purdue 68-65 at the Breslin Center on Saturday. The lost snapped a three-game losing streak for Michigan State — and seriously impacted Purdue's chances for a Big Ten title.
Michigan State saw a 10-point lead dwindle to two points by halftime, but remained in control of the game throughout the second half. Four Spartans scored in double figures to lead the effort on offense, but the story was the defense. Two Boilermakers — Zach Edey and Jaden Ivey — combined for 41 of Purdue's 65 points, and Michigan State coach Tom Izzo said the goal was to take away Purdue's three-point shot. The Spartans did just that, holding the Boilermakers to just 1-for-9 shooting from outside.
Even though Edey dominated down low, Michigan State did enough work elsewhere on defense to make up for it. It also kept the Spartans in the race for the Big Ten title — and made Purdue's road to a title that much tougher.
The Boilermakers entered Saturday tied for first place in the standings with Wisconsin, and if they won their last three games, they'd win the conference. But after their loss to Michigan State, things get a little murkier. Wisconsin takes on Rutgers Saturday night, and the Scarlet Knights beat the Badgers two weeks ago. There's a chance the Big Ten standings get shaken up once again.
One game after going scoreless against Iowa, Gabe Brown helped lead the charge for Michigan State, scoring a team-high 13 points on 4-for-9 shooting, including 3-for-5 from three-point land. Julius Marble added 12 points on a perfect 5-for-5 shooting, while Max Christie and AJ Hoggard both added 11.
As a group, the Spartans shot 47.4% from the floor and went 9-for-20 from three-point territory.
Michigan State now has three games left on its schedule, starting with a showdown against Michigan on March 1. The Spartans close out the regular season at Ohio State March 3 and vs. Maryland on March 5 in the season finale.
Purdue now has to get ready for arguably its biggest game yet. The Boilermakers will face Wisconsin in Madison on Tuesday, and that game will have huge implications in the standings. They'll close out the regular season at home against Indiana on March 5.