LOOK: Bo Schembechler statue vandalized with haunting message ahead of Ohio State vs. Michigan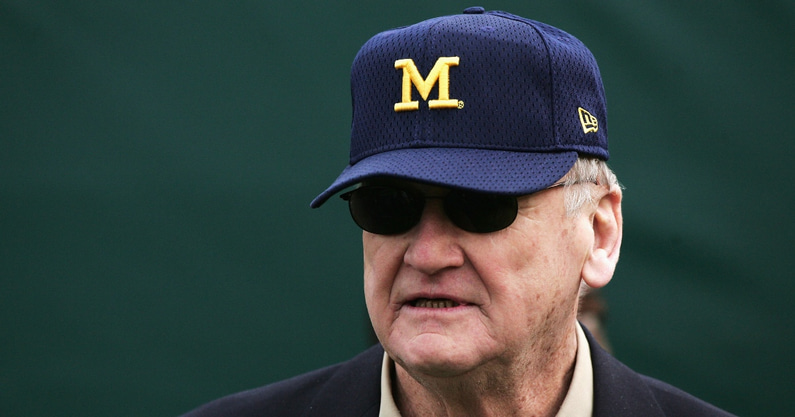 An anonymous person vandalized a statue on Michigan's campus of former head coach Bo Schembechler on Tuesday night.
Wednesday morning, the statue, which sits outside of Schembechler Hall, was found splattered with red paint. On the steps next to the statue is painted "Bo Knew" and "hail to the victims." 
The messages are in reference to former Michigan physician and director of health services Dr. Robert Anderson. Anderson was accused of sexually abusing hundreds of students and student-athletes dating back to the 1960s.
Schembechler was the Michigan head coach from 1969-1989, and he died in 2006. His family maintains he would not have tolerated the abuse had he known it was occurring.
An anonymous email from a "Boknew" address was sent to the Detroit Free Press on Wednesday morning claiming responsibility for the vandalism. 
The incident comes ahead of the annual game between Ohio State and Michigan set to take place on Saturday.
Anderson engaged in decades of sexual abuse
The first reports of misconduct came in 1975, when a wrestler named Ted DeLuca wrote a letter to his coach and the athletic director.
It was reportedly widespread knowledge that Anderson was engaging in sexual abuse with students, including that it was possibly known by Schembechler, but Anderson was not terminated despite a calling for his firing by then-associate vice president of student services, Thomas Easthope. He claims he was overruled.
Anderson retired from Michigan in 2003, and he died in 2008. DeLuca wrote another letter to current athletic director Warde Manuel in 2018, leading to increased public scrutiny of the university's handling of the situation.
The issue is ongoing and the university continues to receive complaints after asking victims to come forward in 2020. According to a report from the university, they had received over 2,100 complaints about the situation as of October 2021.