Bruce Feldman details what opposing head coaches had to say about Aidan Hutchinson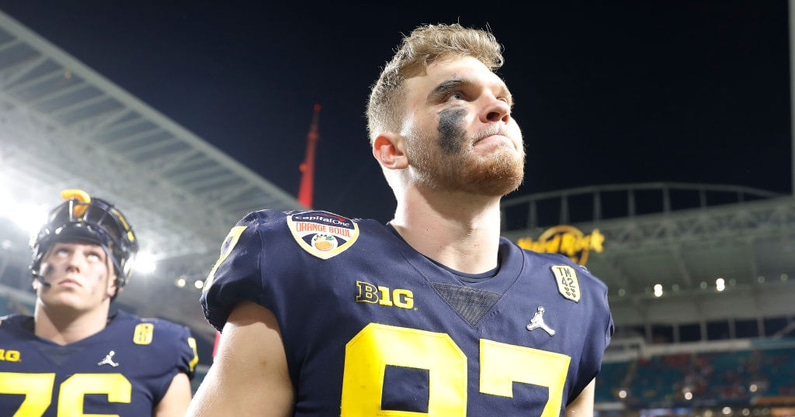 With the NFL Draft just a few weeks away, the question is whether or not Aidan Hutchinson will be the No. 1 overall pick. He starred for Michigan last year, and The Athletic and FOX Sports' Bruce Feldman detailed what opposing coaches said about the Heisman Trophy Finalist.
Feldman said opposing coaches — understandably — were impressed with what they saw from the star EDGE. Their assessments can likely improve the case for Hutchinson to go No. 1 overall, and Feldman said there are intangible factors in his favor, as well.
"They say he's even more impressive when you see him in the games as opposed to what they watch on film," Feldman told Colin Cowherd. "They said he plays strong, plays violent, he's a really good athlete. He has a lot of flexibility in terms of what you can do, scheme-wise. They love — and this is something that's come up a lot around the Michigan program — about how committed to football he is. Just to being the best he can.
"There's a drive there, but really good change of direction. He pretty much checks off every box. So when people say safest pick, I think they know they're going to get a guy who's probably going to go to a bunch of Pro Bowls. Now, who is he going to be, JJ Watt? He's not 290 pounds, but who else is JJ Watt? But he can be a big-time player."
Hutchinson had a monster year for Michigan in 2021, totaling 14.0 sacks and 16.5 tackles for loss to lead the Michigan defense alongside David Ojabo. He was a big reason why the Wolverines were able to make the College Football Playoff, where they lost to eventual national champion Georgia.
Hutchinson finished second in the Heisman voting behind Alabama quarterback Bryce Young, who became the first Crimson Tide quarterback to ever win the award.
Mock drafts continue to list Hutchinson as the No. 1 pick, including ESPN's Todd McShay in his Mock Draft 4.0 this week. Hutchinson also took his first visit to — you guessed it — Jacksonville, which has the top overall selection for the second straight year. McShay and fellow ESPN analyst Mel Kiper agreed the Jaguars would be the perfect landing spot for him given their current roster situation.
"With Hutchinson, you're getting the player, you're getting the production," McShay said. "You're getting the sacks, the tackles for loss, the run defense and you're getting a cornerstone type of leader. And I think if you're Jacksonville, you're looking for that kind of impact player and a player that you can build around moving forward, Mel.
"So, to me, Hutchinson [is] probably the easiest pick here in the top 10. I don't know how much of a discussion that we even need to have at this No. 1 spot for the Jacksonville Jaguars."