Dax Hill reveals former Ohio State star reached out first after draft, plans to trash talk locker room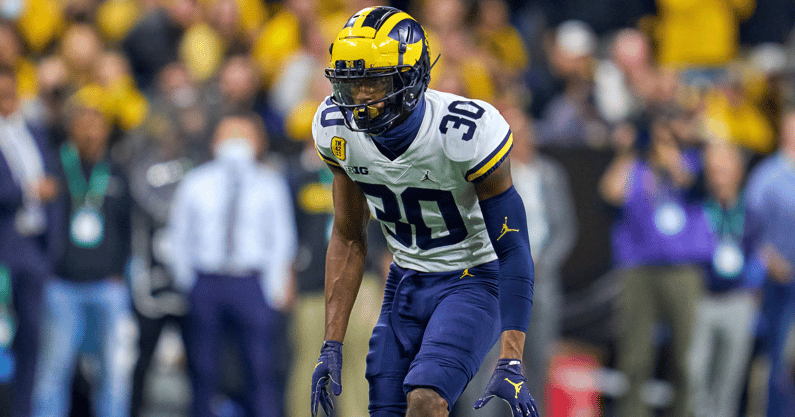 After being drafted to the Cincinnati Bengals, former Michigan safety Dax Hill finds himself in Ohio State territory. That reality became even more apparent to Hill when Bengals defensive end Sam Hubbard, a Buckeyes alum, reached out to him following draft day.
"A few minutes ago Sam Hubbard just reached out," Hill told reporters at his introductory press conference. "Then Chris Evans, another Michigan guy, just reached out to me. It's some O-State people around here I really didn't know too much about, but now I know."
This past season, the Wolverines defeated Ohio State by a score of 42-27 on their way to claiming the Big Ten Championship. Not only was it the first win against the Buckeyes of the Jim Harbaugh era, but it also snapped an eight-game losing streak for Michigan. The Wolverines still hold a 59-51-6 all-time advantage in the rivalry.
Asked in his Bengals press conference if he has mentioned the victory to any of his new teammates who attended Ohio State, Dax Hill didn't hesitate.
"Oh, that's Day 1," the safety said. "I've got bragging rights for it now since — I think I'm 1-1 — but hey, this year was a big win for us."
Cincinnati coach Zac Taylor on Dax Hill
Daxton Hill is the younger brother of Baltimore Ravens running back Justice Hill, who played his college days at Oklahoma State. Growing up in Tulsa, Oklahoma, Daxton Hill is set to join Bengals team that is coached by Zac Taylor, a fellow native of the Sooner State who attended Norman High School.
Cincinnati is coming off of an appearance in the Super Bowl this past season, its third in franchise history. With the addition of Hill to the secondary, Taylor is confident the Bengals can continue to build upon that success.
"Daxton Hill has been a tremendous player for a long time," Taylor said Friday according to The Wolverine. "He's a great player coming out of Tulsa, Oklahoma. He's been at Michigan the last three years and has made a tremendous impact on one of the best defenses in all of college football. He played a lot of different roles for them. Everyone in that building speaks very highly of Dax — not only the play style but the intangibles.
"The stuff on the field, and the stuff off the field. As you guys know, that's exactly the type of traits that we look for in our players. He embodies everything that we've searched to be about. We're really excited that he was where he was last night in the draft and that we were able to get him at No. 31 and add him to the mix. He's going to be a great weapon for us for a long time."
Hill appeared in 33 career games at Michigan with 23 starts playing multiple roles in the secondary. He also contributed on special teams. He was an All-Big Ten honoree in 2021, racking up 69 tackles (4.5 for loss), 0.5 sacks, 11 passes defended, two interceptions and a forced fumble.