Inside the Numbers: Michigan's 2022 recruiting class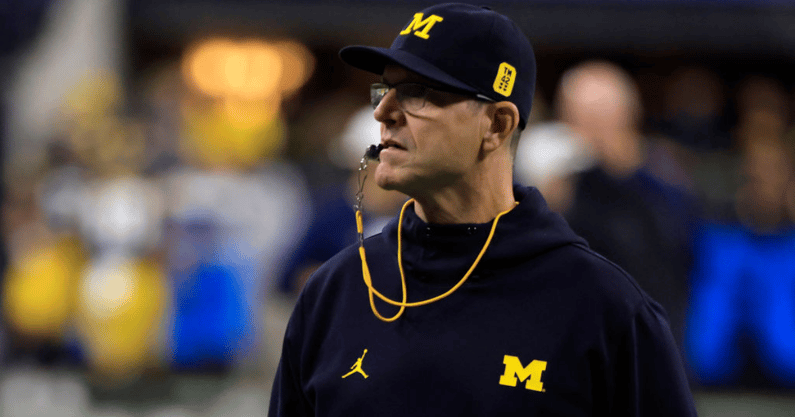 With the Early Signing Period in the rearview mirror and only a handful of uncommitted and unsigned prospects across the country, most programs have their 2022 recruiting classes set.
On3's database gives unique insights into those classes, both on a year-by-year and historical basis. That includes rankings in-conference and nationally, geographic data, and breakdowns of prospect ratings.
Following a down year on the field in 2020, Michigan made a drastic turn around in 2021 by making it to the College Football Playoff. That momentum has followed on the recruiting trail as well. Here's how the Wolverines' 2022 class shapes up, according to On3.
Rankings
Jim Harbaugh's revamped coaching staff this season has paid off, as the Wolverines currently have the No. 8 class nationally and the No. 3 class in the Big Ten, according to the On3 Consensus Team Recruiting Rankings. Michigan is up six spots from a year ago nationally, but so is Penn State, which jumped over them to take the No. 2 spot in the league behind Ohio State.
Blue Chips
Although they weren't on pace with programs like Ohio State, Alabama and Georgia with blue-chip prospects, Michigan still landed plenty. Seventy percent of the Wolverines' 2022 class is made up of four- and five-star prospects, including five-star cornerback Will Johnson. Compare that to 2021, when just 59 percent of Michigan's 22-man class fit into the blue-chip category.
Where Harbaugh and Co. really made their mark was over the final few weeks when they capitalized on a number of major coaching changes and decommitments. Of the Wolverines' top four signees, three were committed elsewhere in the weeks leading to the Early Signing Period. Four-star defensive lineman Derrick Moore was solid with Oklahoma, four-star wideout Darrius Clemons was pledged to Oregon, and four-star safety Keon Sabb was committed to Clemson. But the upheaval at each school allowed Michigan an opportunity, and they closed with as much momentum as anyone in the country.
And despite a relative lack of success in recent memory, the Wolverines have still been able to get prospects from their program into the NFL. Their 36 NFL draft picks over the past five years is just behind LSU, who ranks third with 39. Linebackers (5), wide receivers (4), cornerbacks (4), and safeties (3) have been the most successful position groups for the Wolverines over the past half-decade.
Recruiting Footprint
Although Michigan has a significant amount of talent in its home state and the surrounding areas, the Wolverines went national in a big way in the 2022 class. Just 4 percent (one signee) came from The Mitten, and that was the aforementioned Johnson. In the 2021 class, more than a quarter of Michigan's signees were from inside the state.
The Wolverines were all over the map this year, though, grabbing a trio of prospects from Florida and California, and two each from Illinois and Tennessee. They also went into Connecticut, Colorado, Idaho, Texas, Maryland and South Carolina.
The average distance Michigan's signees will travel to campus is nearly 1,000 miles, which is triple what Alabama's will and nearly double what Ohio State's will.