Michigan QB commit Jadyn Davis invite to Elite 11 Finals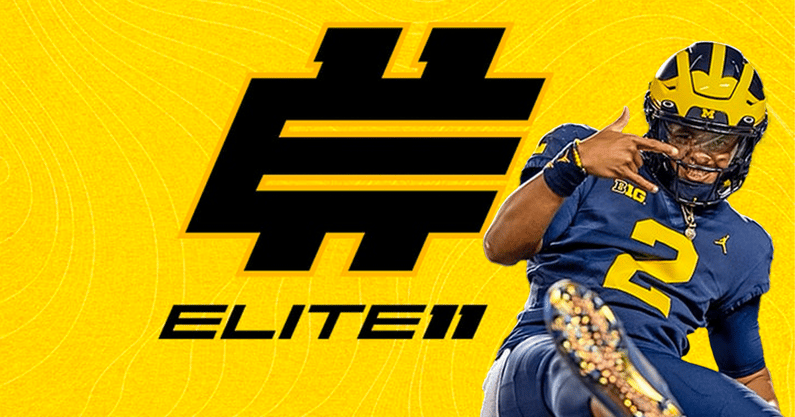 Charlotte (N.C.) Providence Day School four-star quarterback and Michigan commit Jadyn Davis has received an invitation to the 2023 Elite 11 Finals.
Davis is the No. 28 overall prospect and No. 4 quarterback in the 2024 cycle, according to the On3 Industry Ranking, a weighted average that utilizes all four major recruiting media companies. He is also the No. 1 player in North Carolina.
The 6-foot-0.5, 190-pound signal-caller is the latest quarterback to make the cut for the Elite 11's showcase event in California.
Davis joins a 12 other quarterbacks already invited to this year's finals.
That list that includes Georgia Five-Star Plus+ commit Dylan Raiola, Alabama five-star quarterback commit Julian Sayin, Florida four-star commit DJ Lagway, Notre Dame four-star commit CJ Carr, Ohio State four-star commit Air Noland, top-60 signal-caller Elijah Brown, Florida State four-star commit Luke Kromenhoek, LSU four-star commit Colin Hurley, Ole Miss four-star commit Demond Williams Jr., TCU three-star commit Hauss Hejny, Penn State three-star commit Ethan Grunkemeyer and three-star Trever Jackson.
One of the highest honors for a high school quarterback is being invited to the Elite 11 Finals. The event, which will celebrate its 24rd year in 2023, brings together the country's elite signal-callers for three days of competition and training in Los Angeles.
Elite 11 alumni include Carson Palmer, Andrew Luck, Matthew Stafford, Tim Tebow, and more recently Trevor Lawrence, C.J. Stroud, Bryce Young and more. Last year's Elite 11 Finals featured more than a dozen of the top 20 quarterbacks in the final On3 Industry Rankings, including three of the top five players at the position.
Michigan's Jim Harbaugh has faith in Davis
Davis announced his pledge to the Wolverines on March 31. He chose the Wolverines over Clemson, Tennessee, North Carolina, and Ohio State.
"One of the times I vividly remember is me being in Coach (Jim) Harbaugh's office and him telling me that the weight of the program's on my shoulders," Davis told On3's Chad Simmons. "He's putting the program in my hands, really, and I'm gonna be the face of that Wolverine program. I held that with a lot of weight, and also, he told me he was turning down commitments and things of that sort from other guys because he was waiting on me.
"I'm a big loyalty guy, big relationship guy. For a man to do that to very, very highly-rated, top quarterback recruits across the country, that says a lot."
On top of his relationship with Harbaugh, Davis instantly connected with new Michigan quarterbacks coach Kirk Campbell. After meeting just once in-person, Davis was sold on Campbell coaching him for the next few years.
"Coach Campbell's my guy," Davis said. "That obviously played a major factor as well because that's the guy I'm gonna be in the quarterback room with… It was great to have a guy that's gonna be my coach that I can bond with. I can really talk about anything, football, life, with him."