Jett Howard shuts down rumors that he 'opted out' as Michigan plays in NIT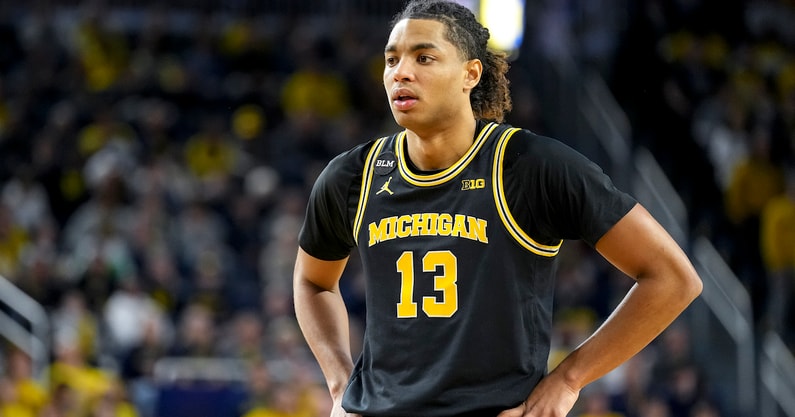 A number of injuries have cost Michigan freshman guard Jett Howard time during the 2022-23 season, including an ankle injury that has sidelined him for postseason play so far. And now the star freshman hit back against online chatter that he's effectively "opted out" from the rest of the season for the Wolverines.
Howard posted screenshots from this story containing quotes from his father and Michigan head coach Juwan Howard, explaining the status of his younger son's injury. He captioned the tweet with "Opted out."
"Before you comment on something know the the full story behind it," Howard wrote in a reply to his first tweet.
Howard, who has starred for Michigan as a freshman, is projected by a number of draftniks to be a fringe lottery pick in the 2023 NBA Draft. Despite enduring a bevy of injuries throughout the season, Howard has appeared 29 of the 33 games that Michigan has played in. And he's still second on the team in points-per-game scoring, with 14.2 a contest. The implication being that Howard is putting his draft stock above playing out the remainder of Michigan's games.
Michigan is set to take on Vanderbilt in the NIT second round on Saturday at noon in Nashville. His availability for that game is not yet clear.
After Michigan defeated Toledo, 90-80, in their NIT opener, Juwan Howard provided the most recent update on Howard's status. These were the comments Howard ended up displaying in his tweet.
"He went and saw a foot ankle specialist. As of right now we're gonna look at this thing day to day. Let him heal and then we'll see. We'll go from there but he wanted to be out there for his teammates today," Juwan Howard said.
The head coach continued: "Jett has been injured all season long for us, unfortunately. But Jett, he's a competitor and I've told you guys his all season. Dating back to his first injury that he had, Virginia game and rushed back played in in London versus Kentucky. I felt that he should not played but he was going to make sure that he stepped out on that floor and be there for his teammates. Nowadays you hear about guys taking time off. I don't know what that is. Jett has been a part of the Howard DNA. He knows that he has a passion for the game of basketball. Every time since he was younger, no matter if he got injured he always picked himself up and continued to keep competing."