Jim Harbaugh discusses the NCAA transfer portal, how it's worked for Michigan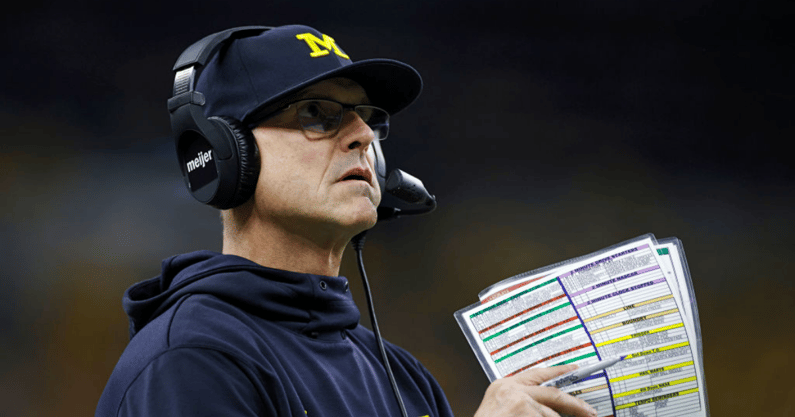 As the transfer portal becomes an essential part of the college football landscape, programs approach it differently. For Michigan coach Jim Harbaugh, he shared his perspective on it.
Harbaugh said he didn't have much to say on the portal becoming such an integral part of building a program, but he said from where he sits at Michigan, it's been a good thing. The Wolverines didn't do much with the portal this offseason, but Harbaugh still thinks it's "productive" for the game.
"I don't know if I really have a take on it opening up more and more," Harbaugh said. "There's probably some numbers that show there's more and more that go in it every single year. Honestly, I think it's another thing that's been, from my perspective, from what I've seen, it's been healthy. … I think it's been, from my standpoint — which is limited, it's certainly not the entire universe of the transfer portal — more often than not … it's been a healthy, productive thing."
Michigan only brought in two transfers this year. Former UCF defensive lineman Cam Goode is in the fold, as is former Virginia offensive lineman Victor Oluwatimi. But the Wolverines did work at the high school level in recruiting, bringing in the nation's No. 9 recruiting class, according to the On3 Consensus Team Recruiting Ranking.
Leading the way for Michigan's incoming freshmen is five-star cornerback Will Johnson — the No. 16 prospect in the country, according to the On3 Consensus, a complete and equally weighted industry-generated average that utilizes all four major recruiting media companies. Four-star EDGE Derrick Moore is also highly rated, coming in as the nation's No. 37 recruit.
Jim Harbaugh opens up about Cam Goode
Harbaugh compared Goode's transition into the Michigan program to that of offensive lineman and Remington finalist Victor Oluwatimi, who transferred in from Virginia this offseason. When Oluwatimi arrived this spring, he immediately got to work to earn the respect of his teammates.
That's exactly the mindset Harbaugh hopes Goode adopts as he joins the team for summer workouts.
"Tomorrow is the first day of the summer cycle and (Goode will) have the ability to show what he can do," Harbaugh said. "(Oluwatimi) is a great example of somebody who was very successful at Virginia and then came to Michigan. He was all about his business. Just went about working on the field and in the weight room. He could have easily been the kind of guy that came in and said, 'I'm a starter, I'm a Remington finalist, etc.' None of that.
"He just got to work and gained the respect of everybody on the football team. So he had the opportunity to do that and Cam Goode will have the opportunity to do that. We'll see what happens."