WATCH: Jim Harbaugh discusses swirling NFL rumors with light-hearted quip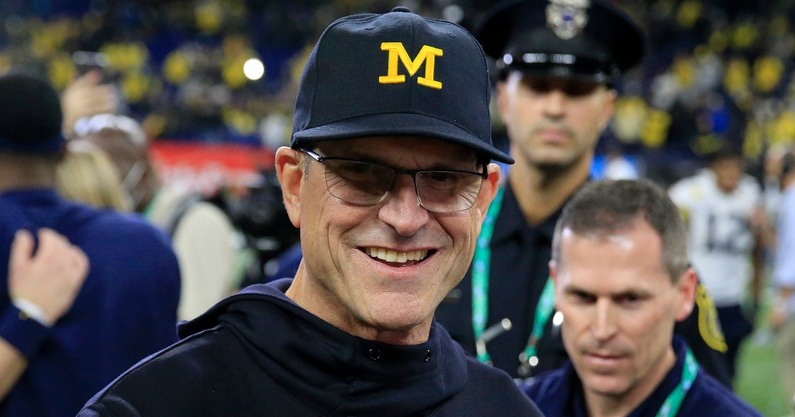 Jim Harbaugh had a little bit of fun while fielding a question from a reporter about the rumors attaching him to a potential return to the NFL.
"It's a little more enjoyable this year compared to the rumors last year," the Michigan head coach said while in Houston for the Paul 'Bear' Bryant Award ceremony.
Harbaugh's potential interest in leaving the college ranks for a return to the NFL have been well-publicized over the last week. There could be very genuine interest there or, as Mike Florio reports, it could be a big ploy to get Harbaugh his next big contract.
The key to scoring the big deal for Jim Harbaugh is how realistic his potential departure seems to the decision-makers at Michigan. Miami Dolphins owner Stephen Ross told reporters on Monday that he won't be the man to take Jim Harbaugh away from Michigan. However, Florio says the two have been in discussions about a possible extension with the Wolverines. Ross is a Michigan alum and donor.
"Harbaugh is actively talking to the powers-that-be about a new contract," Florio wrote. "It's smart for Harbaugh. On the heels of his best year at Michigan, why not cash in? Especially if he can convince the school that he's willing to cash out."
The CFP semifinalist head coach received an extension to his contract in January of 2021 through 2025. His new contract actually reduced his salary while boosting his incentives. Harbaugh's base salary in 2021 was $4.1 million.
Using open jobs with the Las Vegas Raiders and Chicago Bears could net Harbaugh a pretty nice raise. His counterpart at Penn State, James Franklin, received a 10-year, $70 million deal after rumors swirled about his potential interest in LSU, USC or Miami.
Jim Harbaugh just wrapped up his seventh year at Michigan after taking over at his alma mater in 2015. In 14 seasons at the collegiate level, he has a 119-51 record, including a 61-24 mark with Michigan.
The Wolverines went 12-1 this year before losing to No. 3 Georgia in the Orange Bowl last week.