Jim Harbaugh reveals biggest difference with 2021 Michigan team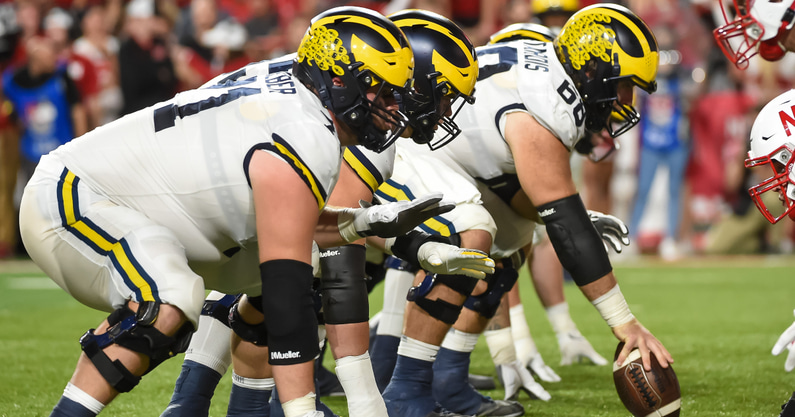 The Michigan Wolverines in 2021 are off to not just their best start in the seven-year Jim Harbaugh Era, but they're also shattering program records in a season that many thought could be Harbaugh's last.
Harbaugh and the Wolverines went just 2-4 last year during the COVID-abbreviated season, his first losing season since being hired in 2015, and the subpar season came after four-straight bowl losses — less than ideal for a school with the football prestige of Michigan.
But in 2021, the Wolverines — now 6-0 and ranked No. 8 in the AP poll — look like a completely different team than in years past. Quarterback Cade McNamara has completed 60 percent of his passes for 986 yards, five touchdowns and one interception, but the true colors of Michigan's redefined offense comes in the run game. The Wolverines average a whopping 246.5 yards per game in Harbaugh's offense, including 5.5 yards per carry and 21 rushing touchdowns.
Harbaugh on Monday made it clear that he's not one to make comparisons, but this team — particularly, its team-first mentality — truly does separate it from his Michigan teams of years past.
"I know exactly where McNamara is coming from," Harbaugh said, in response to his quarterback singing high praise for the team. "Probably more so, comparing this team to last year's team — last year's team was pretty darn thin, when all was said and done. We thought it was in their best interests to play football — or not, based on a worldwide pandemic. There's no doubt that this group going back to January, February, the amount of guys that were bought in, that were hungry to be good, picked up some experience in the 2020 season; daily, weekly, monthly, the way they worked and came together as a group of players has been very special."
Like he established — he's not one to make comparisons. But if he had to, he explained that this Michigan team is much different than last year because it has more depth, more experience, and the players bought in early and often. Michigan's running game almost seems like a microcosm of Harbaugh's comment regarding the team's depth, as Blake Corum and Hassan Haskins have both done an excellent job through six games. Corum has run for 610 yards and eight touchdowns on 97 carries, while Haskins has run for 492 yards and eight touchdowns on 101 carries, revealing the plethora of talent from which Michigan can choose.
"The grit they have, the fight they have," Harbaugh said of Michigan Saturday after a win over Nebraska. "The mindset of not being denied. The way they prepare, and they have fun doing it. It's in the eyes, both practice and games."
This week, Northwestern will look to deny Michigan in the Big House, a game that will likely lean in Michigan's direction. But in the following five weeks, Harbaugh's Wolverines will have a true test of their colors, with three ranked matchups against Big Ten rivals at No. 10 Michigan State, at No. 7 Penn State and home against No. 6 Ohio State.