Jim Harbaugh: Luke Schoonmaker could be one of the best tight ends to ever play here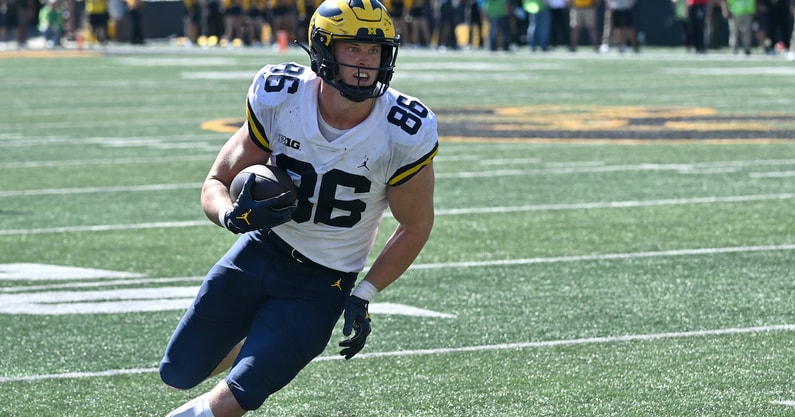 The list of great tight ends to play for Michigan is extensive — including the likes of Jake Butt, Devin Funchess, Bennie Joppru, Jim Mandich and Ron Kramer, to name a few. Current head coach Jim Harbaugh thinks that by the end of this season, redshirt senior Luke Schoonmaker could go down as one of the best in Wolverines history.
Schoonmaker is second for Michigan with 14 receptions and third on the team with 162 receiving yards to go with his one touchdown to date, which came against Maryland in Week 4. He's putting in strong statistical performances since Big Ten play began and positional running mate Erick All has been out with an injury, and Harbaugh knows Schoonmaker's contribution goes far deeper than catching passes.
"Just does everything really well," Harbaugh said ahead of Michigan's Week 6 game at Indiana. "I thought Luke, talked about it at the beginning, it was summer — Luke, I think, is one of the best tight ends in the country. Main competition would be Erick All. But he's even better than I thought. He's fast, he's physical, dedicated blocker and also really good hands and ability to get separation, get open, increase separation, make tough catches. And team player all the way."
CLICK HERE to subscribe to the On3 YouTube channel today for all of the latest news on college football, recruiting, NIL, more!
With All sidelined and no clear timetable set for when he might be back, the original timeshare between All and Schoonmaker is out the window with the redshirt senior highlight and supplemented by Michigan's cadre of reserve tight ends behind the duo.
On his current pace, Schoonmaker would finish the year with approximately 34 receptions for 390 yards and two or three touchdowns — he could of course go on a tear or see a fallow period of targets. But if those current rates hold, by seasons end Schoonmaker would be 8th in receptions and 10th for touchdown receptions for a Michigan tight end in their career.
The runway is there for Schoonmaker to take off, and his head coach is confident he will.
"He's an outstanding player, will be playing on Sundays, all that really good stuff. Maybe before it's said and done, maybe one of the best tight ends to ever play here. That's what I'm seeing right now," Harbaugh said.