Jim Harbaugh conjures his inner Bo as Michigan pounds foes on ground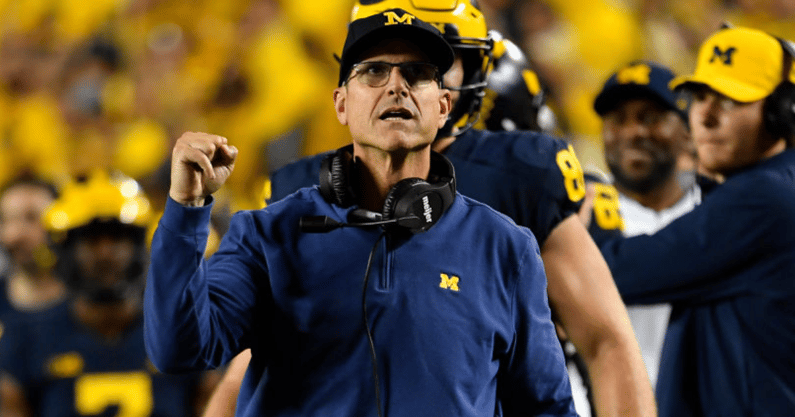 ANN ARBOR, Mich. — It's early Sunday afternoon, the day after No. 14 Michigan defeated a stubborn Rutgers team 20-13, and Jim Harbaugh is asked to consider his inner Bo.
Through four games — through four victories —the Wolverines have become a run-heavy team. They have run the ball 185 times. They have thrown 65 passes. That's a rushing percentage of 74 percent, the highest in the Big Ten. In fact, only two other conference teams are above 60 percent. Few teams outside the service academies like to run as much as Michigan these days.
Harbaugh looked across a desk strewn with game plans and other coaching ephemera.
"The Bo in me wants 200 yards rushing and 200 yards passing," Harbaugh said. "Every single game. That's the Bo in me."
He laughed as he said it. C'mon, Jim. Who are you kidding? Bo Schembechler, Harbaugh's college coach in the 1980s, reveled in his reputation as a guy who viewed the pass with suspicion.
"My favorite thing in football is probably an 80-yard drive in which I've shown some dominance up front, opened some big holes, made some beautiful blocks," Schembechler said in his 1989 autobiography. "And on the final play, from inside the 5, we knock it home. That's football to me."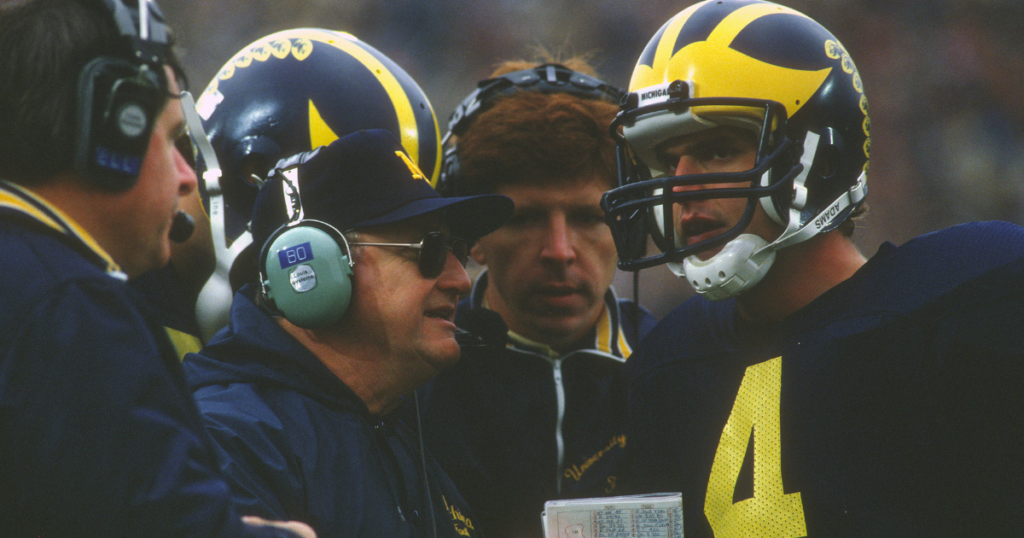 Michigan began the Rutgers game with one of those drives.
"Seventeen plays, no-huddle offense of seven minutes and 36 seconds," Harbaugh said, the admiration evident in his voice. "That's like a 12- , 13-minute drive when you huddle."
Philosophically, Harbaugh said, he's as 50-50 as most coaches. In four weeks of training camp, he said, that's what the offense ran. That's always the ideal, to keep the defense guessing. But once the game starts …
"And then whichever one is better, the run game or the pass game," Harbaugh said, "you start to favor that side of the percentage."
He paused.
"Those backs are really good."
The Wolverines two-headed tailback of senior Hassan Haskins and sophomore Blake Corum and a much-improved offensive line are the reason Michigan is fifth in the nation in rushing at 290.8 yards per game. Haskins has started every game and averages 80.5 yards per game. Corum comes off the bench well enough to lead the FBS in all-purpose yardage (180.8 ypg).
Harbaugh is happy with the way the two have split time (Corum has 69 carries, Haskins 61). Haskins is better on some runs, Corum on others.
"It's gotten so we feel good with either one of those two guys in there," Harbaugh said. "They're going to get the lion's share. I'm trying to split the reps, really. Keep both fresh but also just have a feel for it. If one guy's rolling, he gets an extra."
On that opening drive, Haskins ran the first snaps. Corum came in for seven of the next eight rushes. On first-and-goal at the Rutgers 2, Haskins returned to the field and got into the end zone on his second try.
With 5:24 to play and Michigan trying to protect a 20-13 lead, Corum ran the ball on six consecutive snaps. The Wolverines' Jacob Moody missed a 47-yard field goal, but Michigan killed three-and-a-half minutes. Two plays later, Michigan recovered a fumble, and that's where Rutgers' comeback from a 20-3 deficit ended.
Harbaugh expects that the offense will not run three times to every one pass over the course of the season.
"Thirty-five percent pass, that would be the (lowest) it could possibly be," he said. "It would be closer to 60-40 or 55-45. It's the strengths of this team and how games play out."
The higher the run-pass ratio, the more successful the Wolverines' running game, which usually translates into victories. Harbaugh may profess to want to rebalance his offense, but the Bo in him may be just fine where it is.