JJ McCarthy reacts to winning first road test vs Iowa, raves about defense's performance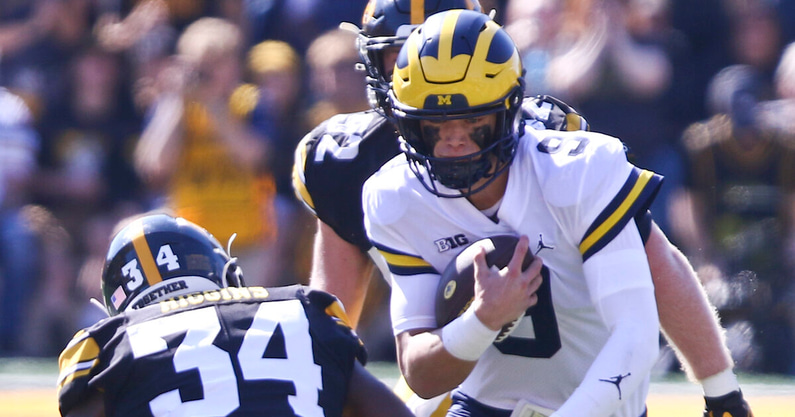 Going against one of the Big Ten's best defenses, J.J. McCarthy faced his first big road test against Iowa on Saturday. He looked the part as Michigan defeated the Hawkeyes 27-14 at Kinnick Stadium, too.
McCarthy had a big day under center, going 18-for-24 for 155 yards and an impressive touchdown pass to Donovan Edwards to help the Wolverines improve to 5-0 on the season. After putting up 27 points on an Iowa defense that entered the day allowing 5.8 points per game, McCarthy understood how important it was for the Wolverines as Big Ten play gets rolling.
"It was huge," McCarthy told FOX Sports' Jenny Taft in a postgame interview. "Just from a team standpoint, this was our first road game. Especially coming into Kinnick with the history of everything, it was really awesome to get it done. Now, we're onto the next week."
CLICK HERE to subscribe for FREE to the On3 YouTube channel
But the Michigan defense did work, too, holding Iowa to just 35 rushing yards and keeping the Hawkeyes out of the end zone until the fourth quarter. The Wolverines sacked Spencer Petras four times, including two sacks from Mike Morris, and McCarthy made sure to give that unit its credit with Morris and Eyabi Anoma standing at his sides.
"It's their non-stop determination every single play," McCarthy said. "They never stop. They go balls to the wall every single play and they have those God-given abilities that make them so special. I'm happy to see that they're going against another opponent, I'm not going to lie."
For McCarthy, it's another big step forward in his development as Michigan's starting quarterback. Saturday's game was his second full game as the starter after last week's game against Maryland, and he impressed the FOX Sports crew with his efficient first half.
McCarthy and the Wolverines will try to keep things rolling next week when they take on Indiana on the road.