Juwan Howard credits Kobe Bufkin for improved play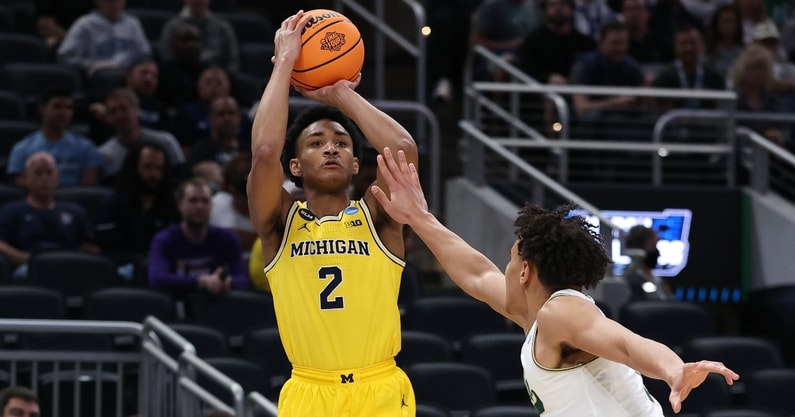 Guard Kobe Bufkin has found his footing as a starter, and head coach Juwan Howard was quite happy with how he responded to adversity this season.
After Michigan's victory Sunday over the Minnesota, Howard told reporters about how Bufkin dealt with early season struggles to find and establish his role on the team.
"The first few games of the season, it was like the end of the world," Howard said. "Give him credit, he just stayed the course, kept believing and trusting in the system and also understanding that it's a long year, and he's a big part of it."
Bufkin scored double digits only once during the first five games of the season. But since Michigan's first conference game in December, Butkin has been playing a high level.
He is averaging 13.8 points per game on 51.3% from the field and 36.1% from beyond the arc over that stretch.
Bufkin has really found his role on the Wolverines as well as the third option behind Hunter Dickinson and Jett Howard. It marks a major upgrade after being a role player off the bench last season.
"Watching his growth from day one his freshman year to where he is now, he's improved like no other," Howard said. "Here's why he improved: because he's always been all in. He understands that his path is different from others and he sees that there's a lot of trust from me and the staff, his teammates, and all that does just elevate your confidence. I've seen a big jump where his confidence — the guy's capable of making plays, whether it's on the offensive end or defensive end."
Juwan Howard calls Kobe Butkin a 'Michigan man'
Juwan Howard said one of the ways the competitor in Kobe Butkin comes out is on the defensive end.
"Sometimes he gets the tough assignments on guarding the best perimeter player," Howard said. From day one, we're playing against Eastern Michigan, he wanted to guard Emoni Bates. That says the level competitor that he really is. I love having Kobe as a part of our team and that's why I recruited because I know from day one, this is a Michigan man."