Juwan Howard provides explanation for bizarre technical foul at Iowa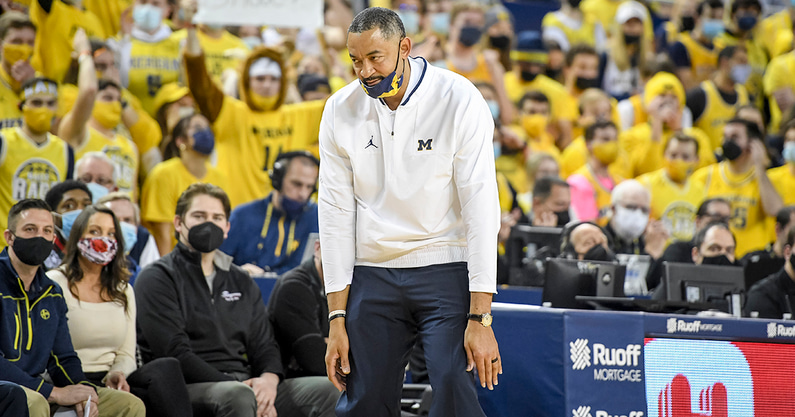 Juwan Howard received two technicals in Michigan's 84-79 win over Iowa on Thursday. One was for arguing with the officials, but the second one was a little more complicated — which is why he wasn't ejected.
Early in the second half, Connor McCaffery's pass bounced of Moussa Diabate's leg and rolled to the other end of the court. There was no whistle, but Howard apparently thought it was a dead ball. That gave the Hawkeyes two free throws and the ball, which was significant considering the game was tied.
However, Howard didn't get ejected because that was a Class B technical, meaning it wasn't unsportsmanlike conduct. That meant he could stay on the sideline as Michigan held off Iowa to get another critical Big Ten win. Afterward, the Wolverines headman explained what happened — and he was honest about it.
"I had a brain fart," Howard said. "The ball was rolling, just my instincts, I think I'm being helpful. I go and pick up the ball, and I'm thinking, 'OK, one of their players knocked it out. They may have touched it.' I wasn't locked in like I should have, I picked it up and I'm getting a technical. I knew it when I got it, I was like 'Oh. Oh my God.' That's when it clicked. That wasn't the right thing to do.
"I told the guys in the locker room, and also on the court, that coaches, we make mistakes, too. That one's on me."
Considering he had that first technical, a reporter asked if the thought crossed Howard's mind about a possible ejection for the mistake. Again, Howard answered honestly.
"Of course it did," he said.
Juwan Howard receives technical foul late in first half vs. Iowa
Michigan coach Juwan Howard wasn't happy with a no-call against Iowa on Thursday. He made it known, and he paid the price for it.
Howard received a technical foul with 53 seconds left in the first half of his team's Big Ten showdown with Iowa. He thought the Hawkeyes should've been called for a foul on a missed shot by Jaron Faulds and was seen making his point with an official. That's when he received the T.
Iowa ended up taking a 39-37 lead into halftime thanks to a last-second fadeaway jumper from Keegan Murray. There were nine ties and nine lead-changes in the first half as the two teams face off in a tight Big Ten race.