Mel Kiper raves about player who narrowly missed inclusion in first mock draft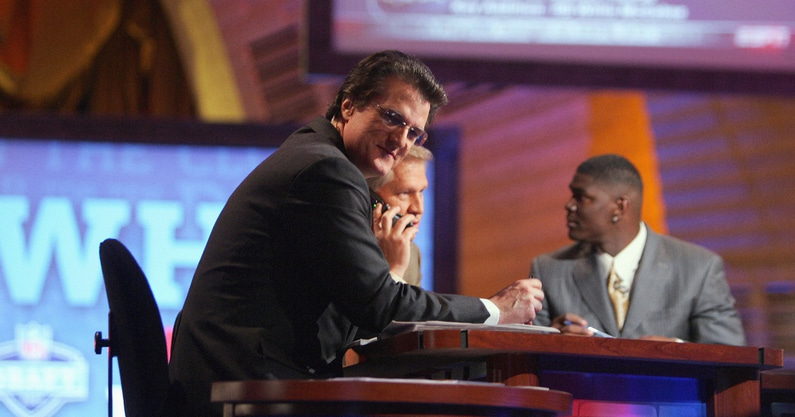 Not everyone makes Mel Kiper's initial mock draft. Daxton Hill was one of those on the fringe of making the initial list, but that wasn't the case when the mock was complete Wednesday night.
While he wasn't in Kiper's first 32, he had nothing but positive things to say about the star Michigan safety. Here's Kiper's explanation on why he left Hill out:
"I almost had Daxton Hill the safety from Michigan going to the Detroit Lions but I flipped him for Sam Howell at the last minute," Kiper said. "Daxton Hill's my guy. Versatility phenomenal. He can cover. He can tackle. He had 69 tackles, breaking up passes. Had a couple of inteceptions. All over the field making plays for Michigan. And that coverage ability in that slot position is very important in this league. "
Howell, North Carolina's star quarterback, is projected to go 28th overall to the Lions in Kiper's first mock draft. He said he's not sold on Jared Goff being the guy for the Lions. Detroit can draft Howell here and have him take over the reigns by 2023 once Goff's contract runs up.
At the same time, Kiper feels Howell could drop to round two and knows the Lions need help in the secondary. Enter Hill.
Hill was a five-star recruit coming out of Booker T. Washington High School in Tulsa, Oklahoma. Hill won the 2018 Gatorade Oklahoma Football Player of the Year award, too.
He committed to Michigan, flipped to Alabama and then flipped back to Michigan. And he has been a versatile star on defense and special teams for the Wolverines since arriving on campus.
"Daxton Hill is a borderline first-round pick," Kiper said. "Like I said, I almost had him to the Lions, Todd, in the late first round area."
Hill is the second rated safety in this year's draft — he trails only Notre Dame's Kyle Hamilton. Hill compiled 65 tackles on the season ahead of their Orange Bowl matchup against the eventual national champion Georgia Bulldogs. He finished the season with 69 after a four-tackle performance in Michigan's 34-11 playoff loss.
It looks like he will soon join his brother, Justice, who was drafted in the fourth round of the 2019 NFL Draft by the Baltimore Ravens, in the pro ranks. Whether it's in the first or second round, Hill will likely be drafted higher than his older sibling.