Jim Harbaugh reveals emotions behind Michigan effort, dedicates win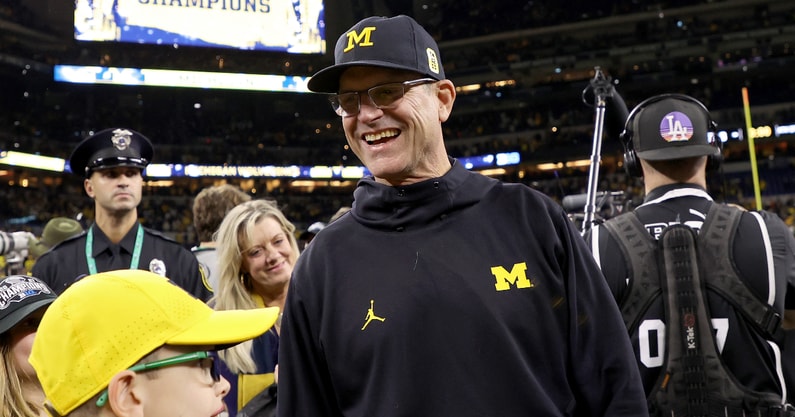 It was a great Saturday night for the Michigan Wolverines, as they put together a dominating performance and rolled to a 42-3 win over Iowa in the Big 10 championship game. The Wolverines controlled the contest from start to finish and earned a spot in the College Football Playoff top-four as a result.
Following Michigan's big win, which moved the Wolverines to 12-1 on the season, head coach Jim Harbaugh – who has put together his best year yet in Ann Arbor – shared plenty of emotions. He was obviously extremely happy for his team, but he also dedicated the win to someone.
During his postgame interview with the Big Noon Kickoff crew on FOX, Harbaugh explained how proud he was of his guys and said that Michigan was honoring Tate Myre – the Oxford High School standout football player who was killed in the recent school shooting – in the win.
"It feels great," Harbaugh said. "I didn't know how much more we could pile on our guys for this game. Big Ten championship to put that banner up in our practice facility. Those guys get to stay in Scheinbechler Hall from now on, join the team pictures of the other 40-some Big Ten champions at Michigan. Chance to go to the playoffs, first time we've ever done that. We put that on em in this game. So many things. I think to be one of the best teams ever in Michigan history.
"We got a chance to do that and also we wanted to honor Tate Myre in this game – dedicated the game to him for his courage and what he did in the shootings in Oxford. He's a hero. There was a lot on our guys and they rose to the challenge. We got our 42 points up there and my patch fell off. I think God was with us."
Tate Myre's jersey was number 42, so it was very fitting that the Wolverines put up 42 points against Iowa.
Jim Harbaugh has two-word reaction to making College Football Playoff
Michigan head coach Jim Harbaugh had plenty of praise for his team in his reaction after their huge win over Iowa in the Big Ten championship game. The Wolverines beat Iowa 42-3, winning the Big Ten title and securing their College Football Playoff appearance.
During his postgame interview, Harbaugh had a simple and passionate answer on how he feels about going to the College Football Playoff.
"Fired up," Harbaugh said.
Following the Wolverines' Big 10 championship win, they will now learn their College Football Playoff ranking and semifinal opponent during Sunday's selection show at noon ET on ESPN.