Report: Michigan football plans to make stadium changes following rivalry incidents in 2022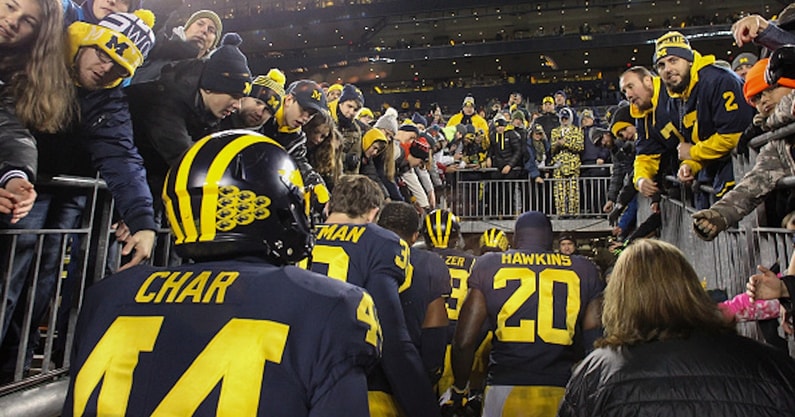 Michigan will reportedly create wider tunnel access after multiple incidents this season, according to a report from MLive.
The report stated the university would also remove about 45 seats from the stadium. It came on the heels of a safety review involving numerous incidents this past season.
"The decision comes after athletic department officials conducted a 'thorough safety review' following the 2022 season, one that saw multiple incidents occur in the stadium's long, narrow tunnel connecting the locker rooms to the playing surface," Aaron McMann wrote. "A notice has been sent to the affected ticket holders in Section 1, on the south side of the tunnel, an area described as a 'moveable sliver of seats' by department spokesman Kurt Svoboda.
"The move will give players, coaches and staff additional space to pass through the mouth of the tunnel without incident."
Michigan and Michigan State were involved in a tunnel scuffle incident that resulted in numerous Spartans' player suspensions. Penn State coach James Franklin also complained about the tunnel set up in the stadium.
In 2021, Michigan and Ohio State nearly came to blows at halftime of their rivalry game in Ann Arbor while coming back out to the field.
Michigan tunnel changes after incidents
However, there was a separate incident during the Michigan-Michigan State game that sparked the review for a renovation.
"We're told by a source that the decision directly stems from an incident that occurred during Michigan's Oct. 29 win over in-state rival Michigan State," McMann wrote. "when a spectator on the north side of the tunnel reached down and came in physical contact with MSU coach Mel Tucker, touching his head. 
"The fan has since been identified and banned from all future games, but the incident is a reminder of potential security flaws inside the stadium at 1201 S. Main Street."
Heck, Michigan's tunnel came under fire against Illinois late in the season with a different incident.
ABC's Molly McGrath had the report at halftime that Illinois coach Bret Bielema was frustrated and yelling at officials over the delayed exit by the Wolverines heading into the second half. Take it from McGrath, who had the scoop on the incident on the ABC broadcast of the game:
CLICK HERE to subscribe for FREE to the On3 YouTube channel
"There was another issue in the Michigan tunnel at halftime. Bret Bielema came out of the locker room and was yelling that Michigan was running late and yelled for all of the different officials to hold Michigan back. But they let Michigan go while Illinois was held back and entered the field late. So some issues in that tunnel. They added two minutes onto the clock because Illinois had to come out late because of it."