Michigan moves into top 25 of On3 Consensus Team Recruiting Rankings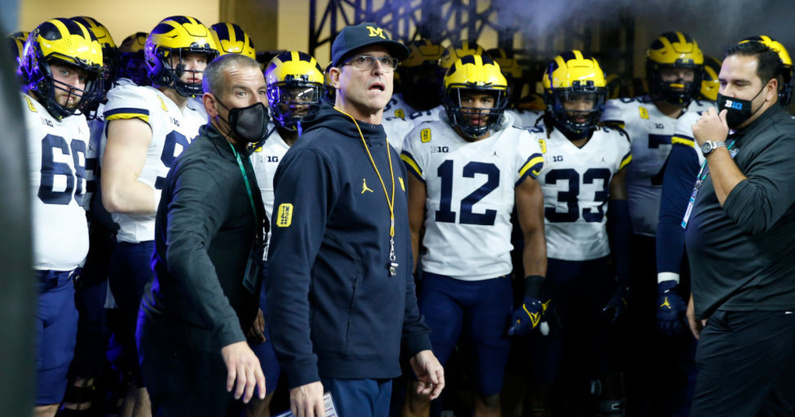 Four-star EDGE Collins Acheampong of Rancho Santa Margarita (Calif.) Catholic announced his commitment to Michigan Friday afternoon. It marked a big win on the recruiting trail for the Wolverines, whose class moved to No. 23 in the 2023 On3 Consensus Team Recruiting Rankings.
Michigan's group ranks No. 5 in the Big Ten behind Ohio State, Penn State, Michigan State and Iowa.
Acheampong chose the Wolverines over programs including LSU, Miami and UCLA.
"Michigan was the one that I had no real big worries about," Acheampong told On3's Jeremy Johnson. "It felt natural and it felt like a place I wanted to be. Even putting football and everything else out of it, Michigan is the place where I wanted to be…
"I think it really suited who I am and what my personality is," Acheampong said. "It just makes sense for me. Other schools came close. Especially Miami. They also checked some of the basic boxes that I was checking, which were education, great football and people as well as the location."
Acheampong is the No. 317 overall prospect and No. 39 EDGE in the 2023 On3 Consensus, a complete and equally weighted industry-generated average that utilizes all four major recruiting media companies.
Michigan's run to the top 25 began this week
The Wolverines' 2023 recruiting class ranked No. 43 on the morning of July 1. Just three days before, Tallahassee (Fla.) Lincoln four-star linebacker Raylen Wilson — the top-ranked player in Michigan's class — announced his de-commitment.
Yet fortunes quickly changed as four-star linebacker Semaj Bridgeman of Warminster (Penn.) and three-star wide receiver Fredrick Moore of Saint Louis (Mo.) Cardinal Ritter College Prep committed to the Wolverines, elevating their class 14 spots to No. 29.
Six days later, four-star interior offensive lineman Amir Herring of West Bloomfield (Mich.) chose the Wolverines over Boston College, Missouri and Nebraska.
"I am really excited to stay home, do it for Michigan, and I love the direction of the program," Herring told On3's Chad Simmons. "My goals are to help Michigan win more Big Ten titles, win national titles, and to help win the Joe Moore Award. I am going into a competitive program. It is strong, everyone competes, and I want to be the best."
Herring's commitment moved Michigan's class to No. 27. Acheampong then announced his decision a day later.
Herring, Bridgeman and Acheampong are three of the top four recruits in the Wolverines' class behind four-star running back Cole Cabana of Dexter (Mich.), who committed in February.
Michigan in the hunt for top blue-chip prospects
Michigan still has a chance to extend the momentum from its College Football Playoff berth to the recruiting trail.
The Wolverines are contenders for five-star EDGE Nyckoles Harbor of Archbishop Carroll Washington (D.C.), who is ranked as the No. 12 overall prospect and No. 2 EDGE in the On3 Consensus.
Harbor took an unofficial visit to Ann Arbor on September 25, 2021 and is given 22.3% odds to land at Michigan, according to the On3 Recruiting Prediction Machine. The RPM lists Maryland as the favorite for Harbor at 28.8%.
Additionally, the Wolverines are favored to land four-star EDGE Enow Etta of Colleyville (Tex.) Covenant Christian Academy. The RPM gives Michigan a 96.2% chance to land Etta, who took an official visit to Ann Arbor on June 17.
Other prospects considering the Wolverines include four-star running back Jeremiyah Love of Saint Louis (Mo.) Christian Brothers College, four-star wide receiver Malachi Coleman of Lincoln (Neb.) East and four-star defensive lineman Kayden McDonald of Suwanee (Ga.) North Gwinnett.