Michigan star missing in pregame warmups vs. Illinois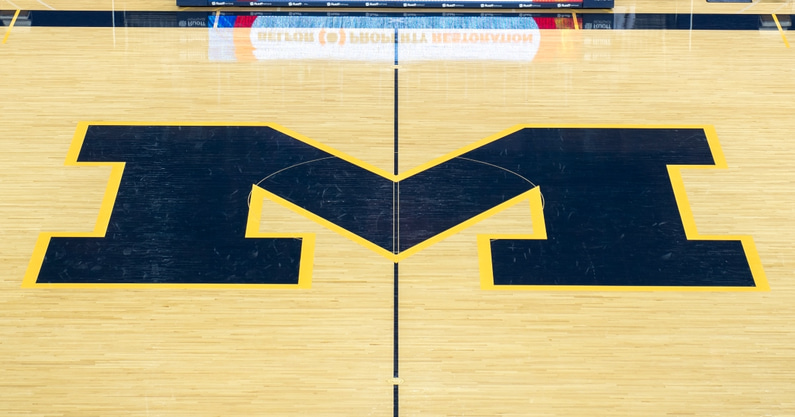 A big piece of the Michigan basketball team was missing during warmups tonight before the Illinois-Michigan matchup, All-American center Hunter Dickinson. He will miss tonight's matchup due to medical reasons, per On3's Chris Balas of TheWolverine.com. Tip-off for the game is set for 9:00 PM EST on Fox Sports 1. Brandon Johns Jr. is also out for the game due to medical reasons, per a Michigan team spokesman.
Losing Dickinson before the matchup with Illinois center Kofi Cockburn is not only a big blow to the Michigan roster, but college basketball fans across the country. The matchup tonight was going to be one of the most highly anticipated matchups of two big men during the 2021-2022 college basketball season.
Cockburn led Dickinson in every major stat category in their March 2 matchup in 2021. Dickinson only had six points on 1 of 8 shooting from the field. He also grabbed five rebounds. Cockburn, on the other hand, put up 12 points while bringing down seven rebounds on 6 of 10 shooting from the field. Both big men figure to be top selections in the 2022 NBA Draft.
In the 2021-2022 season, Dickinson is currently pouring in 16.1 points per game, while corralling 8.8 rebounds per game, and dishing out 1.9 assists per game. His season-high this year came against the Buffalo Bulls on Nov. 10, when he pumped in 27 points and grabbed six rebounds in a 88-76 win.
Michigan struggling in 2021
The Wolverines have already lost six games this season, including a 72-51 drubbing at the hands of the North Carolina Tar Heels on Dec. 1.
Highly touted freshman Caleb Houstan is currently third on the team in total minutes played. The Montverde Academy product is currently averaging 9.5 points per game, 4.5 rebounds per game, and 1.6 assists per game.
He's struggled a bit with his shooting early in his career and he's still learning the ropes defensively, but those things will likely come with time.
Big things are expected of Houstan, as he was rated as the No. 10 overall prospect in the country in the 2021 class, according to the On3 Rankings.