Brady Quinn reveals how Michigan knocks off Ohio State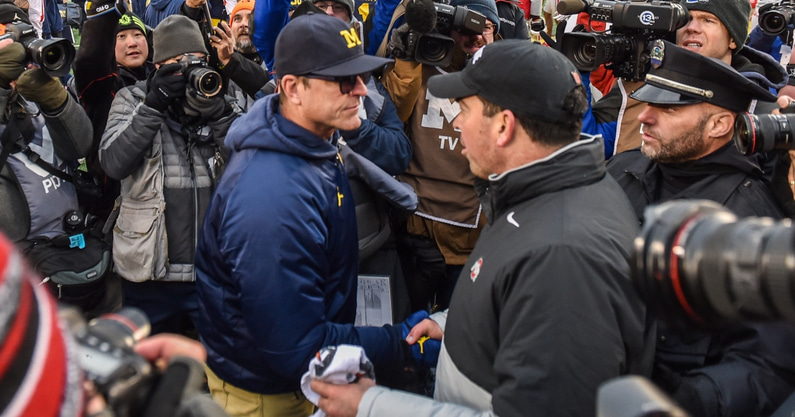 A game Michigan head coach Jim Harbaugh has called a playoff game, the Wolverines are set to play Ohio State on Saturday. In what will be the biggest game of the year for both teams, it's almost become an annual tradition for the Buckeyes to win.
However, this year could be different. Michigan is ranked No. 5 in the latest College Football Playoff rankings and has been playing well on both sides of the ball. The pass rush is one of the best in the country with Aidan Hutchinson and David Ojabo.
Fox's Brady Quinn thinks if those two can get to Oho State's CJ Stroud, Michigan will win on Saturday. He noted how the quarterback is not as accurate when he's facing pressure.
"Michigan wins this game if Aidan Hutchinson, the defensive end, and David Ojabo, their other defensive end, do what they've done all year and pester the opposing quarterback," Quinn said. "They're both tied for the lead in sacks in the Big Ten and if you look at CJ Stroud, his completion percentage drops dramatically from a clean pocket vs under pressure. He completes about 73% of his passes from a clean pocket, about 53% when he's under pressure. And that's something he hasn't faced much this season but when you watch him on tape, when guys start to get close, you can tell he doesn't like it, he doesn't want to take off and run. He wants this to be a 7 on 7 essentially, where he doesn't have to worry about getting hit.
Quinn went on to say despite the blowout win for Ohio State last week, Michigan State was able to get some pressure on Stroud. However, since they went down by so much early, there was no getting back into the game.
"That's what we saw last week against Michigan State, which was one of the better pass-rushing teams but because of how that game started off, there was no ability for them to get back into that thing — rush the passer, they got pretty worn out particularly from the outside," Quinn said.
Both Hutchinson and Ojabo have 10 sacks on the season. During the loss to Michigan State, the two combined for three sacks and it was still not enough. They will have to both play one of their best career games.
With how good of weapons Ohio State has in their three receivers, giving Stroud time will be the kiss of death.