Daxton Hill makes major decision about football future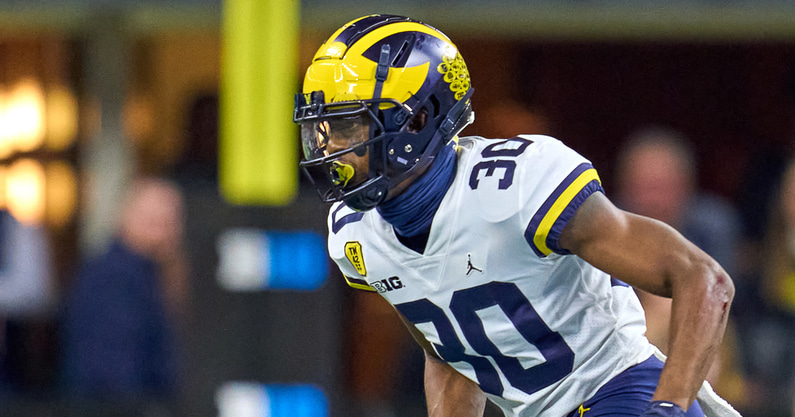 One day after Michigan defensive end Aidan Hutchinson declared for the NFL Draft, another big name followed suit. This time, it's Daxton Hill.
Hill made the announcement on his Instagram Thursday night, along with a lengthy note to Michigan fans.
"I would like to thank God for placing me at the University of Michigan and for giving me an opportunity to represent myself and my family," Hill wrote. "My experience will be remembered forever because of how I was welcomed into the Michigan Family.
"I wouldn't be here if it wasn't for all of the coaches who have invested in me along with my teammates and friends who have helped me get tot his point in my career. … It's been a long, unforgettable journey that I've had these past three years which has shaped who I've become. After much prayer and thoughtful consideration, I have decided to enter the 2022 NFL Draft."
In his three years at Michigan, Hill had 150 tackles, including 69 for the Wolverines this season. He was a big reason why Michigan went from unranked to a College Football Playoff semifinal appearance.
Michigan defensive end Aidan Hutchinson declares for 2022 NFL Draft
Jim Harbaugh was finally able to break through with the Michigan Wolverines this season, defeating Ohio State and making the College Football Playoff. Having defensive end Aidan Hutchinson being a leader was a huge reason why — terrifying offenses all season.
On Wednesday, Hutchinson announced the 2021 season was his last in Ann Arbor and declared for the 2022 NFL Draft. Along with it, he penned a letter to everyone involved with the Michigan program and said he would remember the Ohio State game forever.
"I spent years visualizing the actual moment that unfolded in my final season at Michigan," Hutchinson said. "November 27, 2021, was 10 years in the making and could not have been a more unforgettable night with my brothers. They proved with me time and time again this season that nothing is impossible and 2% is still 2%. I will relive all of those glorious moments for the rest of my life and forever be grateful to my team for joining me in giving everything we had."
Hutchinson got to represent Michigan during the Heisman Trophy ceremony after the season. While he came up just short, finishing second behind Alabama quarterback Bryce Young, he was one of the few defensive players to ever end up in New York City.
In Todd McShay's latest NFL Draft rankings, he declared Hutchinson as his No. 1 overall player. He was rated ahead of the likes of Oregon pass rusher Kayvon Thibodeaux and Alabama offensive tackle Evan Neal.