Paul Finebaum on Jim Harbaugh offseason drama: He was humiliated by Vikings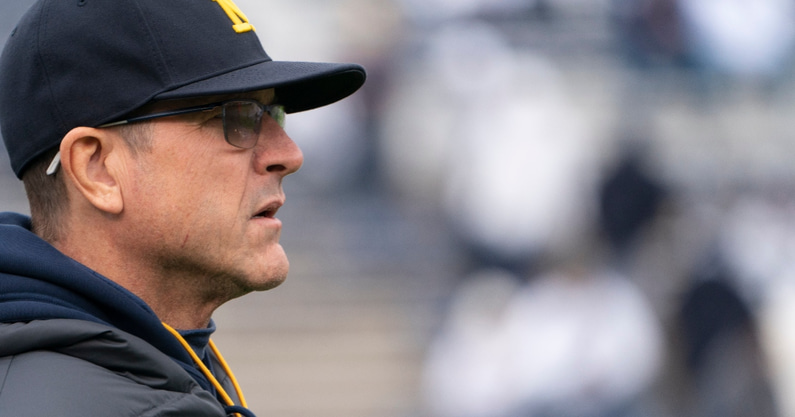 One of the biggest storylines of the offseason was Michigan coach Jim Harbaugh's flirtations with the NFL. He notably interviewed with the Minnesota Vikings, and The Wolverine's Chris Balas reported Harbaugh was planning to take the job.
That led to criticism from Paul Finebaum — who doubled down during an interview with Awful Announcing this week.
Minnesota wound up going in a different direction and Harbaugh returned to Michigan, where he signed a reworked contract extension. Now, his deal is expected to keep him in Ann Arbor through 2026. But Finebaum said he thinks Minnesota "humiliated" the former San Francisco 49ers coach, and argued Harbaugh's situation at Michigan isn't as good as an NFL job.
"A year ago, I think he would have grabbed the first NFL job, and I think he tried to," Finebaum told Awful Announcing. "Jim Harbaugh got humiliated by the Vikings. He wanted the job. To me, it's astonishing to think that one of the top coaches in college football went to interview for a job in the NFL and didn't get it. I think he's always on a short leash.
"The one thing he has going for him is that his fanbase doesn't expect very much. This isn't the Michigan of yesteryear. This is a Michigan that has pretty much accepted that it's a second-class citizen to Ohio State. Yeah, we all know what happened in 2021. But that's an outlier. Ryan Day could not get away with losing to his rival just about every year."
Paul Finebaum previously criticized Jim Harbaugh's NFL interviews in February
In February — shortly after the Vikings passed on Harbaugh — Finebaum joined Get Up on ESPN to talk about the situation. He didn't hold back on his thoughts about what it meant for Harbaugh.
"It looks disastrous," Finebaum said. "I mean, can you imagine anyone of his ilk — we're talking about one of the top programs in the country, one of the top schools — doing what he did? Think about Nick Saban or Jimbo Fisher or Kirby Smart or Ryan Day. Getting on a plane on National Signing Day, interviewing for a job and then not getting it? And you have to wonder if that interview didn't cost him the job.
"Jim Harbaugh is 58 years old. He's already been through the NFL dishwasher. They clearly decided we want someone young. We want a young, up and coming coach. We don't want some coach who's probably has already washed out of the system. Now, he has to go back and say I'm not going to do that anymore. What kind of credibility does he have, and why should anyone at Michigan believe him?"