Report: Reason behind Jim Harbaugh's desire to return to the NFL revealed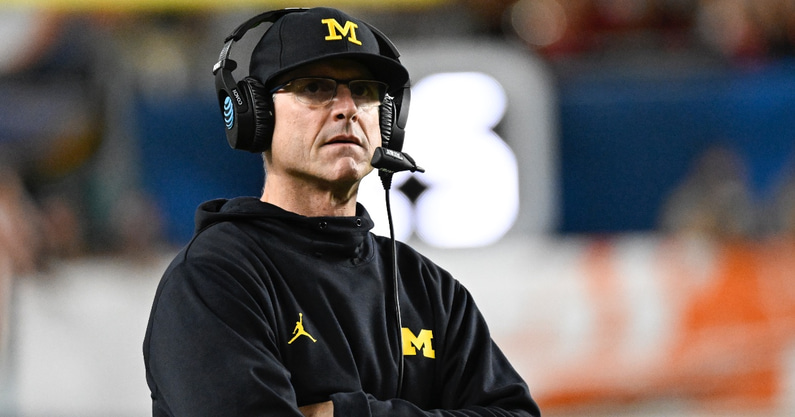 While the college coaching carousel has largely settled down (emphasis on largely, as Todd Graham resigned from Hawaii on Friday), the same phenomenon at the professional level is just getting started.
At the center of the discussions, again, is Michigan head coach Jim Harbaugh. And according to a new report from NBC's Mike Florio, there is huge driving factor behind Harbaugh's alleged desire to leave Ann Arbor.
"Harbaugh is watching and waiting to see whether a team with a reasonable ownership and General Manager situation is interested in giving him an opportunity to continue an NFL career that resulted, from 2011 through 2014, in a record of 44-19-1 and a Super Bowl berth," Florio wrote on Saturday. "At age 58, Harbaugh wants to get back to the Super Bowl and win it."
That Super Bowl loss came at the conclusion of the 2012 season, as Harbaugh took the San Francisco 49ers to the big game only to be defeated by the Baltimore Ravens, who were coached by his brother, John. The appearance came in Jim Harbaugh's second year in control and just two years removed from a 6-10 season in the Bay Area.
Florio touched on the thought that Harbaugh is letting these rumors get out as a form of leverage after his contract was slashed ahead of the 2020 season. Of course, Harbaugh turned around and took the Wolverines to a Big Ten title and an appearance in the College Football Playoff. Florio said his sources deny that is Harbaugh's motivation.
The current openings in the NFL are the Jacksonville Jaguars, Chicago Bears, Denver Broncos, Miami Dolphins, Minnesota Vikings, New York Giants and Houston Texans. The Las Vegas Raiders spot is also likely to become vacant.
The Raiders have been rumored as the top spot if Harbaugh were to leave, but they have not reached out yet. Neither have the Chicago Bears, where Harbaugh began his professional football career after leaving Michigan. Dolphins owner Stephen Ross has said he will not pursue Harbaugh, and Florio all but eliminated the Jaguars from the list given Harbaugh's personal relationships there.
Other insiders reveal Harbaugh is looking around
The Harbaugh-NFL storyline has consumed many football pundits in recent weeks, including Fox's Jay Glazer and Bruce Feldman.
Glazer recently revealed Harbaugh has been calling around and attempting to gauge interest in coaches joining his potential NFL staff.
"Jim Harbaugh, I can tell you this, has been calling around, asking for people, in case he gets an NFL job, if they would join his staff," Glazer shared. "So, he is interested in possibly returning to the NFL."
Feldman joined The Paul Finebaum Show on Wednesday to discuss the latest on the possibility of Harbaugh leaving for the NFL, and he brought up a great point.
"This is the longest Jim Harbaugh has ever coached anywhere," Feldman said. "He's was always a four and out guy — he's been there now seven years. I've always heard he wants to go back to the NFL at some point.
On3's Stephen Samra contributed to this report.