Sherrone Moore shares biggest adjustment as offensive coordinator, offensive line coach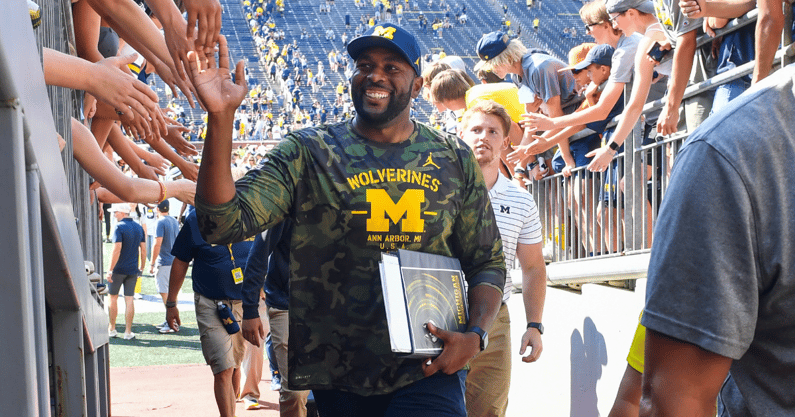 Despite being a top teacher in college football, Michigan offensive line coach and offensive coordinator Sherrone Moore is still a student of the game. The 37-year-old coach is entering his third year in his current position.
He began his time at Michigan as a tight end coach in 2018. However, after leading his tight end group to over 1600 receiving yards in three years, Michigan promoted Moore to his present role. It's taken some getting used to.
"The biggest thing for me, because I was never a guy to let other people do work for me, is trying to be a delegator," Moore said in a recent episode of MGoBlue Podcasts with Jon Jansen. "It's easy for me to say, 'Hey, you do this. You do this, and let me look at the whole picture.'"
The whole picture is a pretty one. Under Moore's leadership, the Michigan offensive line has been dominant. The tight-knit unit won the Joe Moore Award, honoring the most outstanding offensive line in college football, in 2021 and 2022; the first program to win the award two years in a row.
The achievement is warranted. All five offensive linemen brought home all-conference honors while boosting their team to the No. 1 rushing offense in the Big 10. Moreover, the acclaimed unit ranked 11th nationally in sacks allowed.
Now, for the first time this upcoming season, Moore is Michigan's sole offensive coordinator. Nonetheless, he expects the accolades to keep rolling in.
"Now, it's just the standard. Not necessarily winning the award every year, but the standard of the level of play," Moore said. "We've raised the standard. Raised the bar and kind of brought it back to the Michigan lines of old."
Moore and his Wolverines can't raise the bar much higher. After falling in devastating fashion to TCU in the Fiesta Bowl last season, the only place left for Michigan is the College Football Playoff National Championship.
According to recent predictions, Michigan might reach that place sooner rather than later. On April 20, the NCAA posted its "way-too-early" 2023 college football rankings. Michigan sat at the No. 2 spot. With his fellow coaches by his side, Moore is confident Michigan can reach its goals.
"Our coaching staff, I'll put them up with anybody in the country. Whether it's X's and O's, whether it's hanging out and talking, drinking beers — whatever it is. Our group is outstanding and I'm very excited to work with this group," Moore said.