WATCH: Michigan avoids near disaster against Northwestern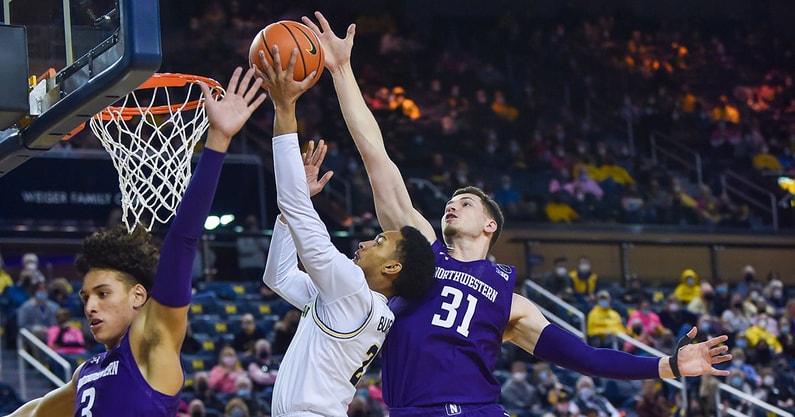 Michigan led by 10 points at one point in the second half on Wednesday. Then, it didn't.
Northwestern started to take control and had a seven-point lead with 5:03 to play. The Wolverines managed to claw back into the game and came out on top — but barely.
Northwestern guard Boo Buie made the first free throw with four seconds to play, but missed the second one. Pete Nance got the offensive rebound and kicked it out to Julian Roper. He air-balled a three, and Nance once again got the rebound and put it back up.
He made the shot, but it was too late. The final buzzer went off before he took the shot. Michigan survived with a 72-70 win at the Crisler Center.
It was as crazy as it sounds. Watch.
The crazy part is Michigan went the last two minutes without Hunter Dickinson and Moussa Diabate, who both fouled out. When Diabate fouled out, the Wolverines led 65-64 with 1:51 to play. They held on to improve to 10-7 overall and 4-3 in Big Ten play.
Northwestern, meanwhile, fell to 9-9 overall and 2-7 in league action with the loss. It's the Wildcats' seventh loss in eight games and the fifth by single digits in that same span.
Inside the box score: Northwestern vs. Michigan
Caleb Houstan had a big game for Michigan, leading the Wolverines' offensive charge with 18 points on 5 for 7 shooting. Devante Jones was close behind him with 15 points as Michigan shot 56.1% from the field.
Northwestern rode a fairly balanced scoring attack led by 14 points from Nance. He also added six rebounds and went 8 for 12 from the free throw line, including two key missed free throws with nine seconds left. Buie added 13 points while Ryan Young also chipped in 13 off the bench.
The schedule doesn't get easier for either team going forward. Michigan has a date with No. 10 Michigan State on Saturday while Northwestern returns home to take on No. 24 Illinois that same day.