Chris Jans breaks down final shot by Shakeel Moore, losing in NCAA Tournament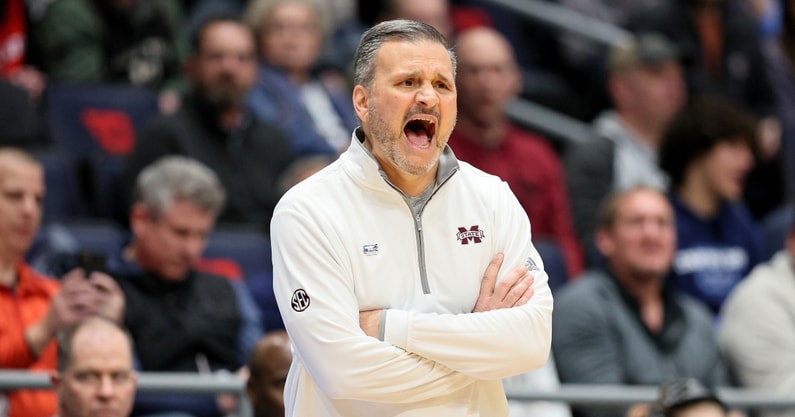 On Tuesday night, head coach Chris Jans and the Mississippi State Bulldogs played the Pitt Panthers in a First Four game in the NCAA Tournament. They lost.
After the game, Jans broke down the final shot by Shakeel Moore and what it was like to lose in the NCAA Tournament.
"Yeah, there were multiple looks on that play," Chris Jans said. "I think maybe we have run it one time all year long, and there were a couple lob options early."
CLICK HERE to WIN March Madness Prizes in On3's Bracket Challenge
"And then obviously like Ram said, he found Shak in the deep drift, and there was no one around him for 10, 15 feet. It was a heck of a look. Fortunately we got it off quick enough where we had at least one tap at it. I don't think the second one was probably in time, but at that point it's all you can ask for, a chance — the ball is in the air, to win an NCAA Tournament game and still have enough time to get a put-back."
With just 10 seconds left in the game, Pitt hit a shot to take a one-point lead. That gave Chris Jans and Mississippi State time to draw up a play. The ball went to Tolu Smith but he had it blocked out of bounds with 2.7 seconds left. That's when the Bulldogs got the ball to Moore, who missed a shot from three-point range.
"It was a heck of a shot by [Jamarius] Burton there to give them the lead, and it was really obviously a great game for the fans, and it was a great environment. Certainly appreciate all the folks in the Dayton community for coming out and supporting. I know it's a basketball-crazy community and they showed up tonight, and we're appreciative of that," Chris Jans concluded.
Chris Jans praised Mississippi State
After the loss, Chris Jans praised his Bulldogs team, saying that he's super proud of them despite the result.
"Yeah, I mean, I talked about it locally when we were going through it, and then when we got to the other side of how impressed I was during that time with their mental approach. That's the time when you got a new coach, in most cases doesn't matter if he's new or not, you start questioning everything. It's just human nature for the players to question themselves, the players to question each other. The players can certainly question a new coach and lose belief," Jans said.
"That phrase is thrown around a lot. But when you're 1-7 in the SEC, to climb your way out of that, put yourself in position that we are in now, it's pretty impressive for these young men. Says a lot about who they are, a lot about who they're going to be when they're done playing college basketball. I'm super proud of 'em."