Chris Jans details the balance it takes to put together roster in current landscape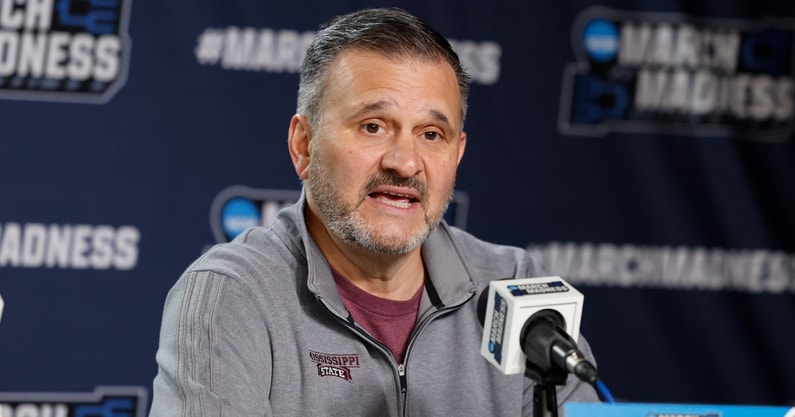 Mississippi State head coach Chris Jans did not have to do ask much work building his roster for the 2023-24 season as he did heading into his first year last season. However, Jans and his staff have still been spending a tremendous amount of time using all three main pathways — high school recruiting, junior college recruiting and the NCAA transfer portal — to keep the roster up to task.
When working with these three different ways to accumulate talent, Jans is a big believer in having a balance.
"It will be determined by who we have coming back," Jans said during a recent media availability. "The saying that I've been coaching by for many years is to stay old. Now more of college basketball is trying to stay older because of the results that are happening. You got 22, 23 year olds out there competing against, at times, 17, 18, 19 year olds. That's a decided advantage for those teams. With COVID still being in play, you've got opportunities to even have older kids than you normally would. That will phase out here in the next couple of years. But that's also a reason why college basketball is older than it has been historically."
Last season as Jans looked to full rebuild the roster heading into his first season, 14 different players either entered the transfer portal, committed to the Bulldogs or enrolled at Mississippi State.
That number is just four this year with former West Virginia center Jimmy Bell and former Marshall point guard Andrew Taylor being their two transfer pickups.
"In terms of a balance, we definitely want a balance of of high school additions along with either junior college or portal additions," Jans said. "But that's always going to be determined by how many guys we got coming back and listen, it's a fluid situation. The portal's closed for entering it. But I don't know what the percentage — I'm guesstimating 10, 15 maybe because of all the guys that are in college longer than they used to be because of COVID that are out there all across the country that could be grad transfers at any moment. We've got some of them in our own program. When I say this thing changes hourly, it does."
Mississippi State has seven new players entering their program this season. The three Bulldogs high school recruits are Madison (Miss.) Madison-Ridgeland Academy four-star combo guard Josh Hubbard, Decatur (Ga.) Greenforest Mccalep Christian Academy three-star center Gai Chol and Woodstock (Va.) Massanutten Military Academy three-star power forward Adrian Meyers.
They also have two junior college transfers in Salt Lake City Community College forward Jaquan Scott and Howard College shooting guard Lerenzo Fort III.
"We're always mentally trying to prepare ourselves for 'what if' scenarios that could happen any day. We're in constant communication with our players to see where they're at and make sure we have those those open lines of communication," Jans said. "No one likes to be surprised. But at the same time, we're not the only ones in this predicament. There's a lot of schools out there that are in the same boat as we are. We're just trying to get ourselves prepared for any what if scenarios that would happen."
Only two players have been lost to the NCAA Transfer Portal so far this season in Martavious Russell and Kimani Hamilton, two freshmen from last year's squad.
Jans said he is hopeful to have the roster all squared away in a few weeks.
"We weren't set until first day of school last year," Jans said. "In a perfect world, come June 1 when we roll back into into summer school, we'll have that set. But there's no guarantee of that. Who knows what could happen today or tomorrow or next week. The goal is to have everyone in place and all of our players here on campus so we can have a normal eight week summer session.