Kevin Keatts defends Leaky Black after foul on Terquavion Smith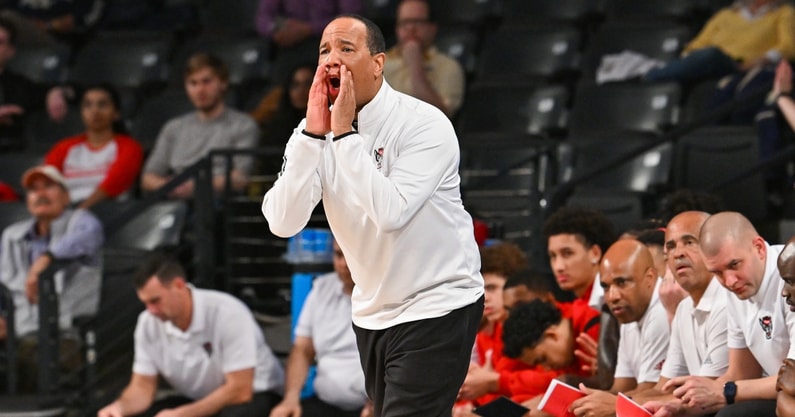 During the NC State game against rival North Carolina, the Tar Heels' Leaky Black fouled Terquavion Smith. On the play, Smith was severely injured in a scary incident that led to him having to go to the hospital. However, after the game, NC State coach Kevin Keats wasn't angry about the play.
Keatts explained that he doesn't blame Black for the injury, which came on a good basketball play.
"I thought it was a good basketball play," Kevin Keatts said during his weekly press conference. "I don't think Leaky did anything intentional to try to harm him at all. I thought it was a really good basketball play. I thought he went for the ball or maybe even tipped the ball. It was ugly because he came across and basically he missed it and hit him across the head and then obviously just the way he fell."
Terquavion Smith had to be transported to the hospital, leaving the game on a stretcher. Luckily, though, x-rays came back negative and Keatts also said that Smith is going to be a game-time decision against Notre Dame on Tuesday.
Immediately following the game, Kevin Keatts didn't have an update, instead offering, "My prayers and thoughts right now are with Terquavion."
Hubert Davis on his message to Leaky Smith
North Carolina Tar Heels head coach Hubert Davis revealed his message to Leaky Black following the incident.
"Well I talked to Leaky after the game and because Leaky is such a sweet, kind kid. He was worried about Terquavion, for both teams today was a contest between two unbelievably great programs and great teams and nobody wants anybody to get hurt or injured," Davis explained.
"And Leaky went over when they were taking Terquavion off the court and Leaky's already asked for Terquavion's phone number so he can call and just check up on him and see and make sure he's okay."
Kevin Keatts on how his team regrouped
There was still a game to play after the injury. So, NC State had to find a way to regroup, as Kevin Keatts explained.
"Well it's hard," Keatts said. "When you look at the way our guys are really close, and this is a close-knit bunch, I thought we handled it the best that we could. I thought our guys did a great job coming together. I think we may have cut the lead to possibly six."