Kevin Keatts reveals his emotions seeing Terquavion Smith in the hospital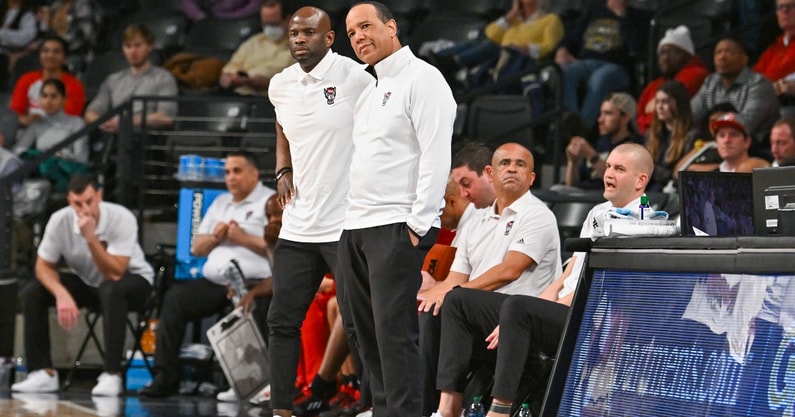 Star NC State guard Terquavion Smith went down in a terrifying incident on Saturday, being stretchered off the floor against North Carolina after suffering an injury following a foul by Leaky Black. Luckily for Smith and the Wolfpack, he has avoided any major injuries and is considered day-to-day at this point.
For NC State head coach Kevin Keatts, the whole situation involving Smith's injury was scary. He met with the media on Monday, where he broke down how he handled his emotions during and after the game in regards to Smith. He compared it to a similar incident in 2019, where he had a player taken to the hospital during a game against Wake Forest.
"It's tough," Keatts said. "The second time in my head coaching career that I've been to the hospital after a game. One was with Jericole [Hellems] at Wake Forest when he took a pretty nasty fall. But so much emotion. And my thoughts always go to the young man and obviously how can I be there for him as he's going through this. It was a tough moment as he laid on that floor and the things that he was saying. I just wanted to be there for him and let the medical people do their job."
Keatts breaks down how he handled the moments after NC State's game not knowing Smith's status
After the game, Keatts didn't want to take care of his postgame media responsibilities. At that point, his sole focus was on getting to the hospital to visit Smith, and he was relieved simply by how his star player seemed to be handling everything when he arrived.
"But emotional, man," said Keatts. "After the game you lose a lot of focus because obviously I had to do radio and then I had to do media. To be quite honest with you, I just wanted to get to him at the hospital just to see how he was doing. When I walked in, they had ran tests, but he wasn't at down so it made me feel like he's handling it the best that he could.
"Obviously at that point we didn't know what the results would be. We got some best case scenario because this is one of your kids and you don't want a season-ending injury to happen to anybody. Just to know that whenever he's healthy he's going to be able to get back on the floor, whether it's tomorrow or Saturday or next week, it was really rewarding to me."
NC State plays in Raleigh against Notre Dame on Tuesday night, with tip scheduled for 7:00 p.m. ET, where Smith is considered a game-time decision. The Wolfpack then hit the road for a trip to Wake Forest on Saturday.