Kevin Keatts glad Terquavion Smith decided to play after injury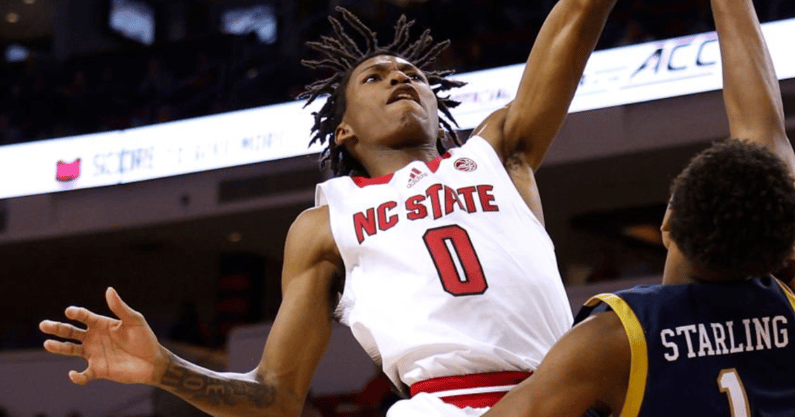 NC State guard Terquavion Smith was involved in a scary incident last Saturday at North Carolina after a hard foul. The sophomore eventually had to be stretchered off the court in the Dean Smith Center and taken to the hospital. However, he didn't miss any time this week as he made his return to the floor on Tuesday in the Wolfpack's 85-82 win over Notre Dame.
After the game, head coach Kevin Keatts said he was happy his star player chose to compete. He said he wasn't going to had Smith not given him the okay. Still, although he thought Smith didn't look entirely himself by playing a different game, Keatts thought he showed a lot of heart by going out and playing.
"When you look at Terquavion Smith, he wasn't Terquavion Smith tonight. But I thought he did some good stuff, made some free throws," said Keatts. "I'm glad that he made the decision to play. Because there was a moment where, if he didn't tell me that he wanted to play, I wasn't going to play him. He fought through some soreness, had a chance to practice yesterday, and came out and competed."
"He only knows one speed and the kid is gonna play hard. I never worried about him going to the hole again. And I knew he would play the way he played," Keatts said. "I did think he settled a little bit too much for threes. But, probably, if I got popped like that? I would take more threes also."
Smith finished the game with 17 points, six assists, three rebounds, three steals, a block, and only one turnover. He did struggle when shooting from the field as he only made two of 14 attempts with both makes coming on nine shots from deep. He showed his aggressiveness, though, by getting to the free-throw line 13 times and capitalizing on 11 of them.
There were definitely concerns at the time of the fall that Smith might be out for some extended time. That just thankfully wasn't the case and now, based on this performance, Keatts won't have to worry about playing him moving forward as NC State prepares for their next game at Wake Forest tomorrow afternoon.