Kevin Keatts: Terquavion Smith will be game-time decision Tuesday vs. Notre Dame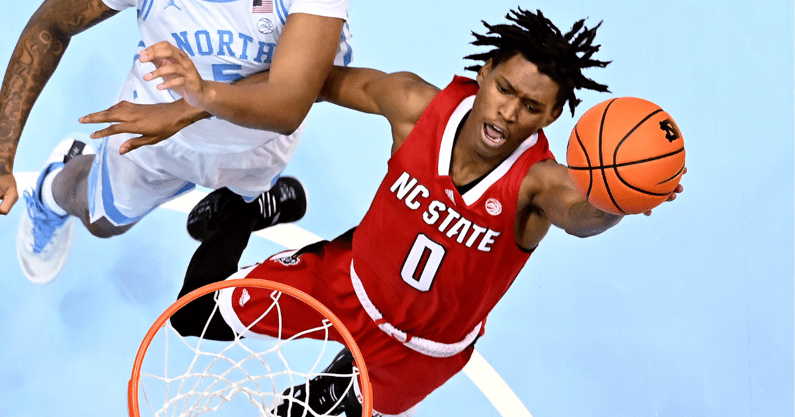 N.C. State guard Terquavion Smith was seriously injured on Saturday afternoon in the second half of the N.C. State-North Carolina matchup in the Dean Smith Center in Chapel Hill, North Carolina. Smith was driving to the hoop on a routine layup but was hit in the face by North Carolina's Leaky Black in mid-air. As Black was trying to block the shot attempt, it caused Smith to land very awkwardly on his tailbone as he crashed to the hardwood.
Medical staff rushed out immediately to attend to Smith, who suffered neck and elbow injuries. They were unable to get Smith off on his own and eventually took him out on a stretcher. Thankfully, the x-rays came back negative for any serious damage stemming from the neck injury. The team even came out and said Smith is now considered "day to day" after avoiding any serious complications from the fall.
Here was the most recent update on Smith from head coach Kevin Keatts, per our friends at The Wolfpacker:
"Kevin Keatts said that Terquavion Smith spent a lot of time with trainers and medical staff Sunday. Team did not practice, so Keatts is unsure where he is physically. Expects him to be a game-time decision Tuesday vs. Notre Dame, but Keatts said Smith is 'very sore.'"
Wow. Crazy to think that Smith could be back on the court playing basketball just three days after that horrifying neck injury. Hard to see why he would be rushed back onto the court so soon when he says he's still really sore, but if he truly is 100% by Tuesday evening, then it's possible we see him.
A very positive development for Smith after a heart-stopping moment for all fans, players and coaches over the weekend. Obviously credit to all of the trainers and medical staff involved, who always prove to be incredible when they're needed most.
Get well soon, Terquavion!