Casey Thompson shares his favorite quality of interim coach Mickey Joseph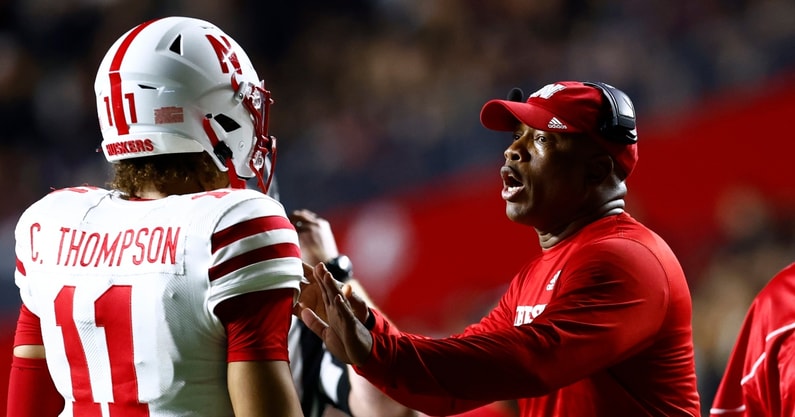 Saturday's matchup against Iowa could be Mickey Joseph's last game as the Nebraska Cornhuskers head coach. Since he took over the program after the university parted ways with Scott Frost, Joseph has made a strong impression on the players and members of his coaching staff. Before the Cornhuskers took on the Hawkeyes Saturday afternoon, quarterback Casey Thompson shared his favorite quality of his interim coach and the qualities he picked up from him along the way.
"His intensity, for sure. I'm usually a calm, even-keeled person, but I just like his intensity. I like his leadership capability," said Thompson.
As Thompson described it, Joseph brings an intensity to his team that the Nebraska quarterback is fond of. Not only that, but his head coach knows how to use it properly when talking to anyone inside the Cornhuskers' facility.
CLICK HERE to subscribe for FREE to the On3 YouTube channel
"What I like about Mickey Joseph is his ability to hold people accountable, and he does it in the right way. He's so relationship driven that he knows how to approach each coach and player and everybody inside the building. I really like that about him. Watching him interact and talk to the team secretary all the way down to the scout team or a walk-on player.
"I think he does a really good job of building relationships," said Thompson. "And that's something that I've been taking note of. A lot of people that I've heard, just from being around the game of football, always say that Tom Brady is like that as well. He knows everybody's name in the building, and he builds relationships. So I feel like to be a good leader and to have people really believe in you, you have to be able to know each person and know their strengths and weaknesses."
Nebraska QB Casey Thompson shares joy in spoiling Iowa's season
It's been an up-and-down first season at Nebraska for Casey Thompson. It started with a Week 0 loss to Northwestern in Ireland before a coaching change, an arm injury and, to cap it off, a rivalry week victory over Iowa on Friday.
That win was special for the whole Nebraska program. Thompson, the transfer from Texas, knew how much it meant — even if he didn't realize there was a trophy involved until Friday afternoon.
But now that he knows it exists, he understands how important it is to take it back to Lincoln.
"It was big to get that trophy and take it away from them," Thompson said, via The Athletic's Mitch Sherman.
Thompson had a huge day to help Nebraska to the victory, its first over Iowa in seven years. He completed 20 of 30 passes for 278 yards and three touchdowns to help the Cornhuskers past the Hawkeyes in the season finale. With the win, Nebraska kept Iowa from winning the Big Ten West, dashing the Hawkeyes hopes of making it to Indianapolis for the conference championship game.