ESPN report: Nebraska, Matt Rhule adding former LSU coordinator Jake Peetz as QB coach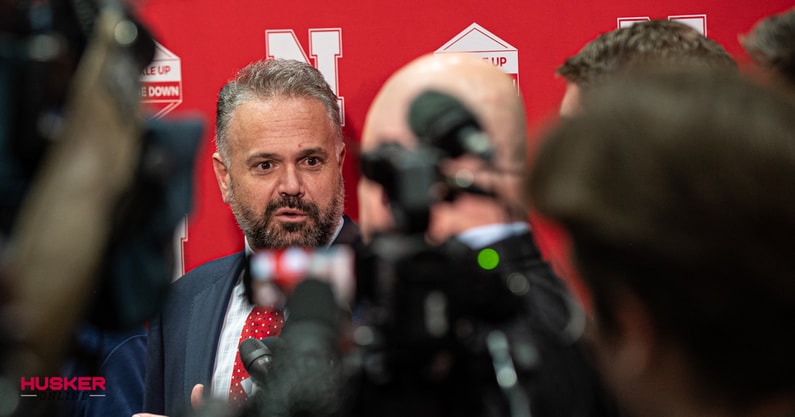 Matt Rhule is adding former LSU offensive coordinator Jake Peetz to his Nebraska staff as his team's quarterbacks coach, as well as an undetermined special teams role, according to Pete Thamel of ESPN.
On Wednesday morning, Thamel tweeted out the news, revealing Peetz is headed back to the college game.
"Sources: Rams assistant Jake Peetz is expected to join Nebraska as QB coach and an undetermined special teams role," tweeted Thamel. "He's the former LSU OC and coached QBs for the Raiders and with Matt Rhule in Carolina. He's a former Nebraska player from 2003-05."
Additionally, Thamel mentioned that Peetz was working as an assistant with the Los Angeles Rams over the last season, and also coached on the offensive side of the football for Rhule in Carolina during his time with the Panthers.
Evidently, he impressed Rhule enough for him to want him on his staff at Nebraska moving forward.
Matt Rhule addresses timeline for rebuilding Nebraska football
While he was coaching in college at Temple and Baylor, Matt Rhule became known as a great rebuilding coach. Now, Nebraska has brought him in to help rebuild and retool its struggling program. 
During his introductory press conference, Matt Rhule was asked about the timeline for rebuilding the Nebraska football program.
"I think the other two places, it was really simple. We found the right people, found the right staff, then we didn't, you know, we found players that we could develop, players that loved football, that wanted to get developed," Matt Rhule said. "We took Haason Reddick, who was a walk-on, who had no scholarship offers, and I think he's one of the top sack guys in the NFL right now. So, we practiced really competitively, we trained at a high level, we pushed the guys, we loved them."
Even from the time Matt Rhule left Baylor for the NFL, there have been major changes to the game, like the transfer portal. However, Rhule has a clear idea of how to handle the possibility of players leaving a developing program. 
"Nowadays, a lot of coaches I saw on the other side, a lot of coaches are afraid to coach their guys hard because they're afraid they'll transfer. Well, I really feel like if a player knows you care about them, if they really believe what I said earlier that I want your life to be better having been here, not just because you're a good player, then you can coach guys hard," Matt Rhule said.
"So, I think the old school things of developing guys and pushing guys and wanting them to be better is what got us there at those places."
From there, Matt Rhule pointed to the support he's had at his previous stops. When things were slow going at first, particularly at Temple, the administration continued to stay aligned with his vision of the program publicly. 
"I went to Baylor in an unprecidented time," Matt Rhule pointed out. "I didn't know what I was walking into when I walked into Baylor. But, we were successful there because of Dr. Linda Livingstone, because of Mack Rhodes, because of Jeramiah Dickey. And, you know, Mack Rhodes our AD there when things were kind of like, why are we going 1-11, calmed the waters. The players got better. People continued to buy in. Then, everyone, as I said, was all in and pushing forward."
Matt Rhule then emphasized that he wouldn't be at Nebraska if he didn't believe that was possible at Nebraska. 
"In terms of timelines, I learned at the last place to be careful. I probably didn't want to give a timeline. I want to win tomorrow," Matt Rhule emphasized. However, he chose not to set a timeline for fear that people would jump on it.
"We're gonna work our tail off, starting today, and we'll do it as fast as we can."
On3's Daniel Morrison contributed to this article.