Mickey Joseph focused on improving as a team during Nebraska's bye week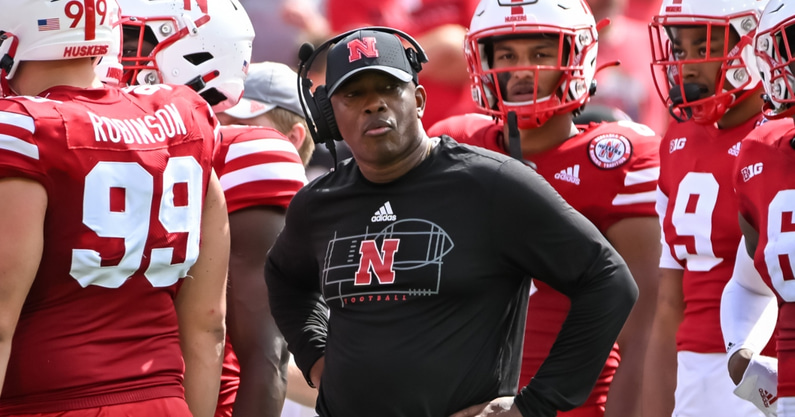 After playing in Week 0 and not taking a bye in Week 1, then firing head coach Scott Frost after Week 2, it's been a long start to the season for Nebraska. Interim head coach Mickey Joseph was greeted with Oklahoma in his first game, which wasn't a close contest for most of the game. Finally, in Week 4, Nebraska gets a bye week to breathe.
Now, Mickey Joseph needs to find a way to turn around the Cornhuskers ahead of the final eight games of the season. All of those games are conference games and if Nebraska turns things around, Joseph could land the head coaching job moving forward.
"Well, this week I challenged the kids to get better this week," Mickey Joseph said to open his weekly press conference.
CLICK HERE to subscribe for FREE to the On3 YouTube channel
"So, our motto this week was 'Nebraska versus Nebraska.' Not worrying about Indiana. To get ready and to get better as an individual team and to get the fundamentals cleaned up and get better in all three phases of the game."
Later Mickey Joseph was asked about how players have responded and what the team's goals are for the remaining eight games of the season.
"We control our own destiny right now," Mickey Joseph said. "We have eight conference games left. So, we're gonna compete this week against ourselves. Next week we'll get ready for Indiana. But, we're still gonna take one stop sign at a time, and the stop sign this week is Nebraska. Get Nebraska better. Then next week it will be Indiana."
"But, they understand what they can do. We told them today, the ball is going to be in your court here pretty soon. It's now what you're gonna do with it."
Nebraska's next game will be in Lincoln on Saturday, October 1st, against Indiana.
Mickey Joseph on recruiting
Recruiting as an interim coach is difficult. Players don't know who they're committing to playing for. Meanwhile, coaches don't know where they'll be next season. So, Mickey Joseph has to find a way to recruit under difficult circumstances.
"We going to recruit like we're going to be here. That's the right thing to do," said Mickey Joseph. "So we're gonna send coaches out on Wednesday; they're gonna be out Wednesday night. Then Thursday and Friday, they'll recruit and get back in there on Saturday; the ones who don't have a game. I'll be on the road Friday. I'll be in Monroe on Friday, New Orleans on Saturday, and be back here Sunday. No, we're going to do the job the right way, do things the right way here. We're not going to sabotage the place knowing, saying, that we might not be here. The best thing to do and the most professional thing to do is to do things the right way."