Mickey Joseph optimistic about Casey Thompson's return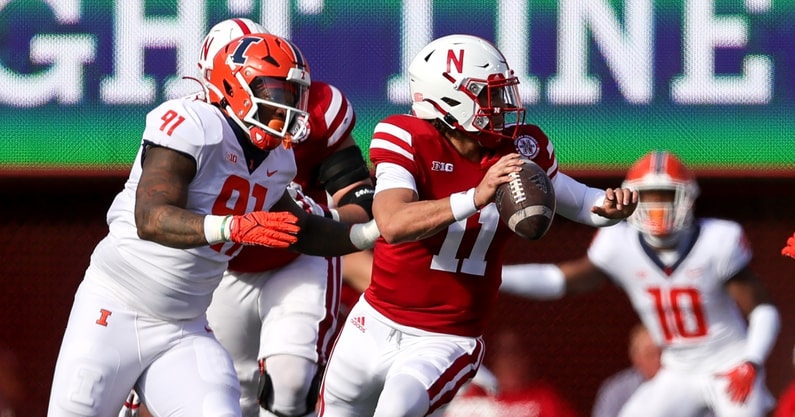 Since Nebraska's starting quarterback Casey Thompson went down last month with an injury, consistent play at the position has been few and far between. Head coach Mickey Joseph is trying to remain optimistic about Thompson's return as the Cornhuskers continue to struggle in his absence.
"Yes. And, like you said, it's up to Casey,"said Joseph after being questioned on whether he believes Thompson is ready to go. "He still has some nerve damage in his pinky; so we'll see how Casey feels tomorrow. I'm sure if I look at my phone, he's already texted me and called me, saying that he's ready to play next week. So, we'll take it day by day with Casey. We won't put Casey out there unless he can compete at a high level."
Although it is understandable that the Nebraska offense struggled a bit going up against the Michigan Wolverines' defense, the lack of a passing game made their offense one-dimensional. Chubba Purdy and Logan Smothers completed ten of their 20 pass attempts for 71 yards, no touchdowns, and no interceptions. And that lack of aerial assault allowed the Wolverines' defense to pin their ears back and drown out the Cornhuskers running attack. Nebraska's leading rusher on the season, Anthony Grant, was limited to 11 attempts for 22 yards with a long of five yards in the game. After the smoke settled, Nebraska's leading rusher for the game was Purdy, who carried the ball five times for 39 yards.
Thompson hasn't wowed with his performance, but he has done the best given the current circumstances surrounding the program. Also, the injuries and offensive line issues have made it difficult at times for the offense to consistently put together successful drives. Still, Thompson has put together a solid season. The former Texas Longhorn starting quarterback has completed 141 of his 224 pass attempts for 2023 yards, 12 touchdowns, and ten interceptions. Thompson also has five rushing touchdowns to his name.
To say that the Cornhuskers' offense has struggled in the absence of Thompson would be an understatement. Although they have been eliminated from qualifying for a bowl game, they still have an opportunity to eclipse the number of wins that they had the last two years, three. All Joseph needs to do is win one more game to surpass that mark. Something that will be much easier to do if Thompson is back.