Mickey Joseph reacts to rivalry win over Iowa, discusses what's next for Nebraska program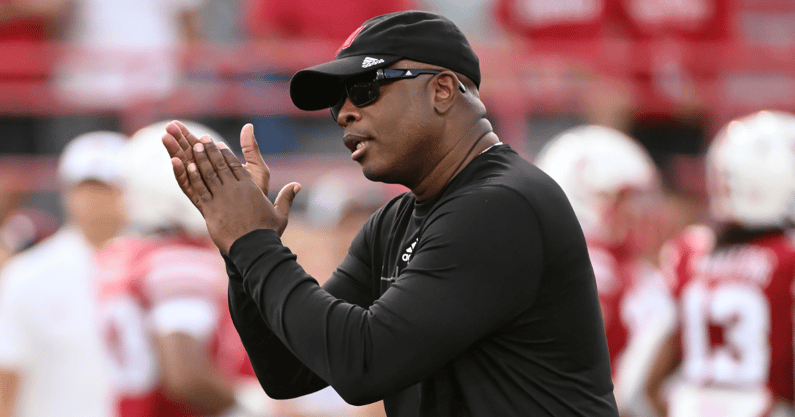 It's been a busy week for Nebraska as its high-profile coaching search appears to be coming to an end. But interim head coach Mickey Joseph still had to lead the Cornhuskers through a rivalry game against Iowa — and he did something no Nebraska coach has done in seven years by beating the Hawkeyes.
The immediate question is what's next for the program, which is reportedly closing in on hiring former Carolina Panthers head coach Matt Rhule. As for Joseph, he led his alma mater to a 3-6 record since taking over as interim head coach Sept. 11.
After Friday's win, he's staying focused on the short-term and preparing to support the administration whichever direction it goes with the coaching search.
CLICK HERE to subscribe for FREE to the On3 YouTube channel
"I can't give [the job] to myself," Joseph joked with Big Ten Network's Rick Pizzo. "I'm going to celebrate with the team tonight, be on the couch tomorrow with my kids and then, they'll make a decision and I'll be OK with whatever decision they make."
As for the game itself, it got closer than many Huskers fans likely would've wanted. Nebraska saw its 24-0 lead turn into a 24-17 advantage, but the Cornhuskers stopped Alex Padilla and the Iowa offense late to come away with a one-score victory — the type of win that eluded the program over the last few seasons.
Joseph made sure to shout out the players for their efforts, but especially gave credit to the seniors, who had their shares of ups and downs during their time in Lincoln.
"I tip my hat off to these kids, especially these seniors, who hadn't gotten a lot of wins in their career here," Joseph said. "They're high-character kids. I wouldn't trade them for the world. It's a great feeling celebrating them right there."
After Nebraska fired Scott Frost, Joseph's message to the players was all about battling the rest of the season. He said they stuck to that, and that's what he's most proud of from his time as interim coach.
"We're brothers," Joseph said. "We love each other and we're going to fight for each other. That was our agreement, that we were going to fight every game. There's going to be some adversity every game. … We're just going to fight."