Mickey Joseph remains focused on Iowa as offseason decisions loom at Nebraska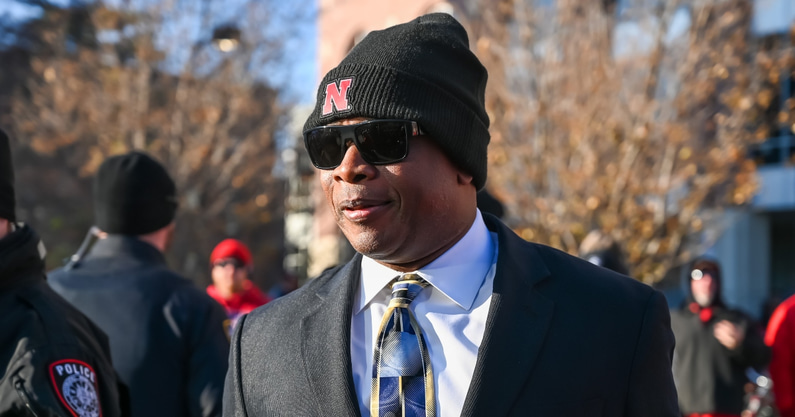 Nebraska has a tough decision ahead of them this offseason as they deliberate who will lead the football program next season. Current interim head coach Mickey Joseph took over the reins after the university fired previous head coach Scott Frost after a home loss to Georgia Southern. And although a decision will come before the start of the offseason, Joseph is not worried about that. He remains focused on Nebraska's upcoming game against Iowa as offseason decisions loom over the program.
"Not right now," said Joseph when asked about pitching for players to stay in the program recently. "Not until this picture clears up a little bit. One thing I'm going to be able to control is getting this team ready to play Iowa. Now, after Iowa, we do have some decisions that will have to be made. But right now, I'm just gonna control what I can control."
Joseph does not appear as if he is going to allow this decision, whatever the university decides, to affect his plans. He is fully focused on picking up the win against the Hawkeyes, the top team in the Big Ten West this year. And his plans for what to do directly following the game, which he laid out a little later, aren't likey to change.

CLICK HERE to subscribe for FREE to the On3 YouTube channel
"I'm gonna be on my couch until I get a phone call. OK, I'm gonna be real with you. I'm gonna be on my couch. I mean I'm going to coach them up until Friday. Then Saturday I'm going to spend all day with the family. And Sunday I will probably come in here and get some things done. but until I hear anything, everybody's just going to kind of take some time away."
Nebraska will take on Iowa on Friday Nov. 25 at 3 p.m. CDT. It will be a road game for the Cornhuskers to close out the season. And a win against an established program like Iowa would go a long way toward building momentum for next year.
If Nebraska elects to go in a different direction at head coach than Joseph, he will not have to worry about finding employment elsewhere unless he chooses to do so. The university has agreed to keep Joseph on the coaching staff, if they elect to hire a different head coach. So for now the Cornhuskers head coach has nothing to worry about but defeating Iowa to end the season.