Mickey Joseph updates Casey Thompson's status for Saturday against Michigan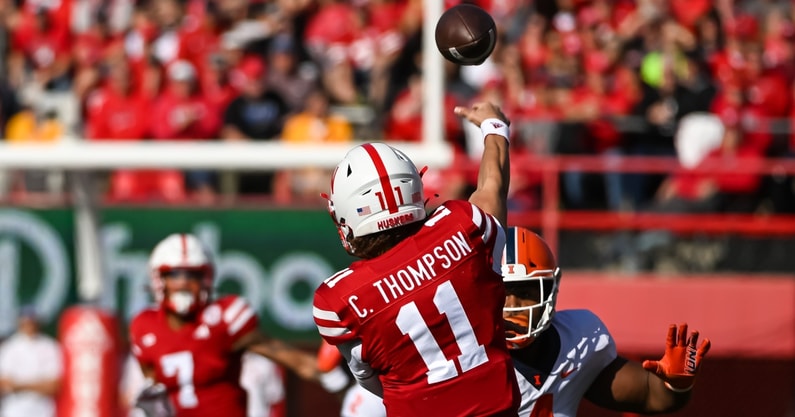 During Nebraska's loss to Illinois, starting quarterback Casey Thompson left the game with an arm injury. Since then, he missed the Minnesota game and has been considered day-to-day ever since. During a weekly press conference, interim head coach Mickey Joseph updated his status going into an important game against Michigan.
"We held Casey [out of practice] today," Mickey Joseph said. "Just trying to still be day-by-day with him. But we held him today. No reps today."
Later in his press conference, Mickey Joseph was asked if he would rule Casey Thompson out for Saturday's game against Michigan.
CLICK HERE to subscribe for FREE to the On3 YouTube channel
"Right now, you know, just looking at him today, I probably would rule out Casey. If he doesn't go by tomorrow. If he doesn't go by tomorrow, I'm gonna have to rule him out," Mickey Joseph said.
"I mean, I look at these kids as my sons. So, I'm not going to put them out there if they can't go, and like I said, Casey's gonna say he's feeling better, but I've gotta be smart with Casey and not put him out there if he can't perform at a high level."
Both Chubba Purdy and Logan Smothers have played in Casey Thompson's absence. If Thompson is unable to play against Michigan, Joseph has implied that Purdy will have the opportunity to start again.
Mickey Joseph says Chubba Purdy should be better
Chubba Purdy struggled and was benched against Minnesota. However, Mickey Joseph expects that he'll be much better on Saturday if he needs to start again.
"I thought Chubba had a really good week of practice," Mickey Joseph said.
"I thought, you know, Chubba's a rep kid, so I think with the reps that he's gotten this week he should be much better on Saturday if he has to go. I'm confident in him. But I think that you know, if we want to go with Chubba because we think Chubba throws it a little better, let's go with Chubba."