Tom Osborne details conversation with Matt Rhule after Nebraska hire, discusses Mickey Joseph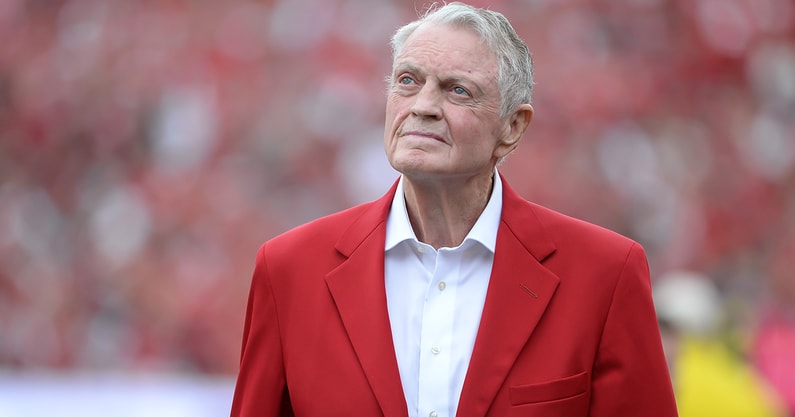 Nebraska announced the news fans had been waiting for all week. Matt Rhule is officially the new head coach, and he had an important conversation after taking the job.
Rhule spoke with former Cornhuskers coach and athletic director Tom Osborne, who led the program to its last national title in 1997. Osborne detailed what they talked about in an interview with the Omaha World-Herald's Sam McKewon on Saturday.
"I told Matt I'd help in any way I could," Osborne said, "but I'm not going to be an interfering influence."
CLICK HERE to subscribe for FREE to the On3 YouTube channel
Among the topics of the conversation was the future of interim head coach Mickey Joseph. Joseph, who took over for Scott Frost after his firing Sept. 11, helped Nebraska to a rivalry win over Iowa Friday night as news of Rhule's impending hire began to get out. He said he'd support whatever direction the administration went with a full-time hire.
Osborne acknowledged the job Joseph did and had high praise for the job he'd do on a coaching staff. He made that clear.
"I would think that would be important, obviously," Osborne said. "I can't go any further that. He's a good recruiter, he relates well to people and he's a straight shooter. He doesn't give you any baloney. He tells you pretty much how it is. I like those qualities in him. It would serve anybody well to have him."
Osborne said he likely won't make it to Rhule's introductory press conference on Monday, but added he wants the focus to be on the new coach and the program. He doesn't want to be a distraction — but that doesn't he's not a fan of the hire.
"I don't want to be an outside or interfering presence," Osborne said. "This is between Matt Rhule, the university, Trev Alberts and the rest of the coaching staff. I'm not part of that. I'm not planning on being there."