Troubling details emerge following Mickey Joseph arrest, court documents show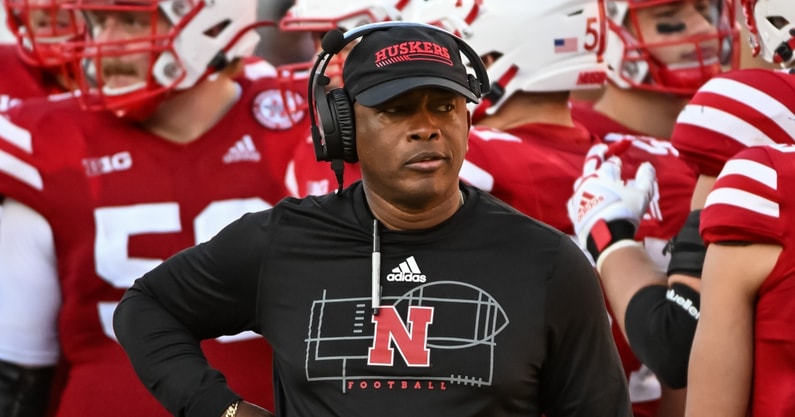 An affidavit released following former Nebraska interim head coach Mickey Joseph's arrest on Wednesday afternoon reveals troubling details about the incident that led to third-degree domestic assault and assault by strangulation charges. Joseph is currently held in Lancaster County Jail. The domestic assault charge is a misdemeanor class offense while if convicted, the strangulation charge would be a felony.
The affidavit, signed by officer S. Redlin, details Mickey's wife, Priscilla Joseph's account of what happened on Nov. 30. It also names a witness to the incident, Ricardo Arzaga, who is Priscilla's brother.
Affidavit reveals disturbing details
"Priscilla reported the two were on the main level of the residence when they began arguing about infidelity in the marriage," the report states. "Priscilla reported Robert (Mickey) pushed her from the front, causing her to fall on the couch."
Joseph's wife details how her husband allegedly choked her with his hands, then after pushing him away and attempting to leave the room, how he grabbed her by the hair and pulled her backward to the ground.
"Priscilla reported Robert struck her in the left temple with a closed fist," the statement continues. "'She specifically stated that Robert (Mickey), 'Grabbed me by the hair and punched me in the eye.' Priscilla was observed to have visible redness and swelling around her left eye which was consistent with being struck."
The officers also observed hair strands on her pantleg that Priscilla Joseph claimed were pulled from the back of her head during the struggle. She also detained how her husband attempted to flush her phone down the toilet.
Mickey Joseph's brother in-law confirmed to the officers that he heard the struggle from the second floor of the house.
According to a news release from Lincoln police, officers were dispatched to a residence near South 34th Street and Tree Line Drive on a domestic-disturbance call. He was booked at 4:03 p.m. in Lancaster County Jail.
AD Trev Alberts responds to Joseph arrest
Nebraska athletic director Trev Alberts released the following statement: "I was made aware of the charges against Coach Joseph and given the nature of the allegations and based on University policy he has been placed on administrative leave. We will have no additional comment at this time."
Joseph was originally hired as a Nebraska assistant coach last December, joining the staff as wide receivers coach and passing-game coordinator. When Alberts fired head coach Scott Frost on Sept. 11, he immediately named Joseph as interim head coach, and Nebraska finished 3-6 under his watch.