Hubert Davis reveals hilarious story from NBA career he uses to address NIL issues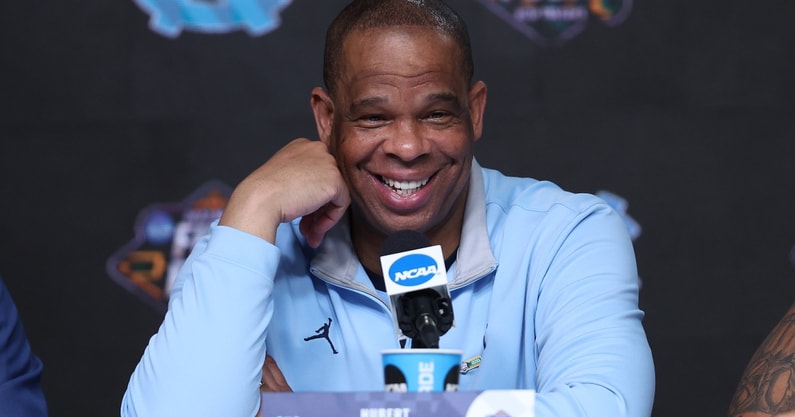 As the NIL landscape continues to evolve, programs are taking different approaches. Hubert Davis is taking an interesting one at North Carolina, drawing from his personal experience in the NBA.
Davis played in the association from 1992 to 2004, starting out with the New York Knicks. While with the Knicks, he landed plenty of deals, and it helped they made a run to three Eastern Conference Finals and an NBA Finals during that stretch. But New York traded him to Toronto, and that's when his endorsement situation changed.
"When I was playing with the New York Knicks, I got everything," Davis said. "I was in New York City — one of the best markets out there — I was getting all different types of deals because I was playing well, personally, and as a team, we were always going to the Eastern Conference Finals and we got to the NBA Finals. With Patrick Ewing and Doc Rivers, we were a good team. Then, I got traded and that deal left and this deal left and this deal left … I didn't play very well and our team was not very good.
"So I gave them that picture of the things that have to line up in terms to be able to benefit from that. Our guys have done a really good job of understanding what's important and making sure that they're doing the things that they need to do on the court, in the classroom, in the community and then if you have time, to do NIL work, then you can do it."
Hubert Davis: There are three 'boxes' players need to check regarding NIL
Davis also dove into how he wants his players to look at NIL. He pointed to three "boxes" he wants them to check to ensure they get the most out of deals — and they all tie into his story about his NBA career.
"I am 100% in support of our players," Davis said. "I'm thankful that they get an opportunity now to get compensated for their name, image and likeness. I think that's terrific. But I told them that in terms of NIL, there are three boxes you have to check.
"No. 1 is you have to be in a great market. I said you can check that box. … There's other programs that are at our level, but there's nobody higher than us. You can check that box. No. 2 is you personally have to play well. You're not going to benefit from your name, image and likeness if you're not playing well. No. 3, which is probably the most important thing, you've got to have team success. You check those three boxes, then NIL will come to you."