Mack Brown breaks down impact of North Carolina's special teams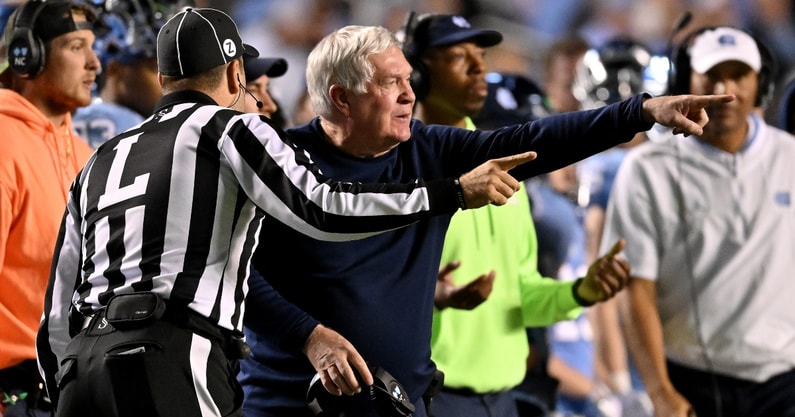 The month of March is known as the tournament tip-off month for college basketball. But it also signals that spring practice time is upon us in college football. Before their spring practice commenced, North Carolina gave fans a pseudo 'state of the program' address courtesy of head coach Mack Brown. Brown addressed many topics, including the progress of the Tar Heels special teams in previous years and going forward.
"Special teams usually is not something you talk about until it's bad. Everybody gripes about special teams, not many people brag on special teams," said Brown. "We were 14th in the ACC two seasons ago. We were second last year. So we made amazing progress. And still, we've got to do a better job of taking another step and creating game-winning plays with special teams.
North Carolina found a stud at kicker last season in sophomore Noah Burnette. In his first season as the Tar Heels starting placekicker, the Raleigh, NC, native showed off his range and accuracy. Burnette finished the year making 15 of his 21 field goal attempts. The one range he had trouble with was with attempts between 30-39 yards, where he was 5-9 — still a pretty good percentage. But from 40 yards or better, Burnette was an impressive 5-6.
In their final game of the season, North Carolina's special teams struggled in their Holiday Bowl matchup against Oregon. And Brown blamed UNC's struggles in that game on a lack of depth caused by the transfer portal.
"A huge part of special teams depth and transfer portal is hurt that with a lot of people. I think we had five walk-ons playing on special teams against Oregon in the bowl game because we had some people leaving and some people hurt. So, special teams is so much better than it was. Now, we need to start looking at being one of the best in the nation, not just one of the best in the ACC. And we got a new kicker; we got a new punter. So all those things will help along with the ones we've got. It'll be fun to see them compete this spring as well."
There's still a way to go before the start of the 2023 college football regular season. But Tar Heel fans won't have to wait that long to see UNC's special teams at work. That opportunity will come on April 15 when North Carolina holds their spring game.