Mack Brown recalls memories of Notre Dame, Marcus Freeman in past meetings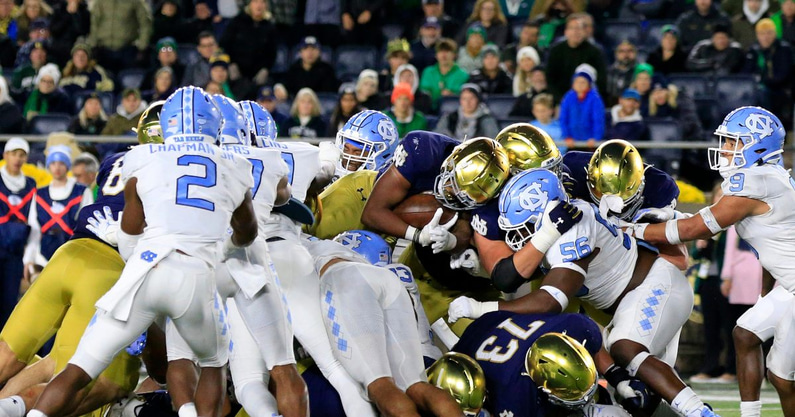 Before the Notre Dame and North Carolina face off on Saturday, the Tar Heels head coach Mack Brown gave his assessment of the Fighting Irish, their upcoming matchup, and their first-time head coach Marcus Freeman.
"Both of our games with them have been very competitive going into the fourth quarter, and they've been tougher than we have. They've had more confidence in the fourth quarter and did that last week against Cal. They won 10-0 in the fourth quarter last week, so that's who they are," said Brown.
In both of the teams' last two matchups with Brown at the helm, Notre Dame was able to put away North Carolina in the second half. In their 2020 match, the Fighting Irish scored 14 unanswered points after heading into the half tied to win 31-17. And in last season's matchup, Notre Dame took a four-point lead into the half and won the second half by six points to win 44-34.
CLICK HERE to subscribe for FREE to the On3 YouTube channel
In Brown's assessment, Notre Dame's strength comes from their ability to control the line of scrimmage. And he sees the Fighting Irish as having one of the country's best sets of offensive and defensive linemen.
"You have to be as tough as they are upfront because they're one of the best lines of scrimmage on both sides in the country, and that hasn't changed. The other thing that you have to give them credit for is they've won 19 straight regular-season ACC games. They have dominated this league in regular-season games without question. And again, that's such a credit for them. They're so consistent. They're good every year. We want to get our program where it's like there's. Their kids are bright. They have top-ten recruiting classes every year. They play hard and are well-coached. So, you just have to give them all the credit in the world."
As for facing off against Freeman, this is not the first time the two have met on the field. But it's the first time they will encounter each other as head coaches. When Freeman was at Ohio State, the Buckeyes played the Texas Longhorns in a home and home series in 2005 and 2006, allowed by a matchup in his last year with the Buckeyes in the Fiesta Bowl. Brown got the better of him, winning two out of the three matchups.
"Marcus Freeman played against us three times when I was at Texas," said Brown. "He was a linebacker that was an All-Big Ten selection. He played in the NFL and played for Jim Tressel, and then he came back, and he was a graduate assistant for Jim Tressel in 2010 (at Ohio State). Then coached for Luke Fickell and Brian Kelly.

"When you talk about who raised you, he's been raised by Jim Tressel, who's one of the greatest to ever coach. Luke Fickell, who will be a Hall of Famer, and Brian Kelly, who will be in the Hall of Fame as soon as he quits coaching. So, Marcus has been raised right, and he's hired a tremendous staff. He kept quite a few of the guys, but he also got a lot of the guys to come in."
The Tar Heels and the Fighting Irish matchup looks to be another exciting game between the two programs. And despite heading into the matchup with the better record North Carolina is still considered the underdog, but they are the betting favorites. The game is scheduled for a 2:30 PM CT kick-off on Saturday at Kenan Stadium, home of the Tar Heels on ABC.