2024 Top-10 PG Elliot Cadeau commits to UNC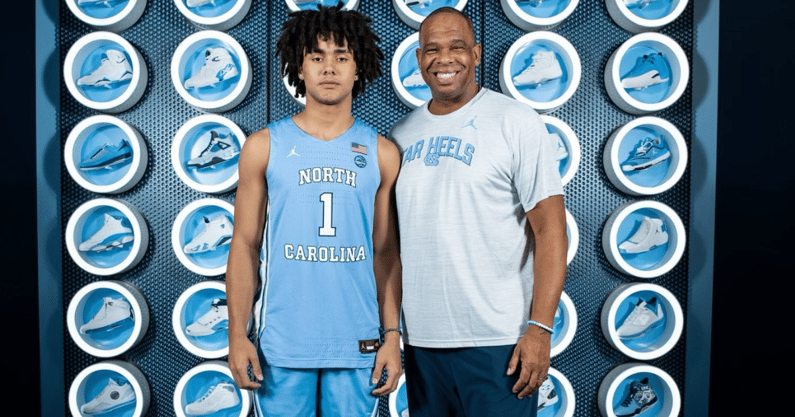 Elliot Cadeau, one of the top players in the class of 2024, has committed to North Carolina.
The 6-foot-1 point guard originally from Oradell, New Jersey chose the Tar Heels over offers from Texas Tech, Texas, Louisville, Syracuse, Kansas, and others.
Cadeau is currently playing his junior season at Link Academy in Branson, Missouri. He is the second player to commit to Hubert Davis in the class of 2024, joining four-star shooting guard Drake Powell (No. 51).
According to the On3 Consensus, Cadeau ranks as the No. 10 overall prospect in the country. The On3 Consensus is the average ranking from all four major recruiting media companies (ESPN, 247Sports, Rivals, On3).
Cadeau on his commitment to UNC
"I chose UNC because it was the best fit for me and my family," Cadeau said to On3. "I think UNC can help me accomplish all my goals as a player."
What type of player are the Tar Heels getting in Cadeau, in his own words?
"The program is getting a winner," he says. "A player with no ego and a player that will do anything to win games."
Cadeau has a message for North Carolina fans.
"I'm excited to be apart of the Carolina family."
In a previous interview, Cadeau further discussed the Tar Heels.
"I have a really strong relationship with coach (Hubert) Davis. They are a winning program that does great with point guards. I like their style of play a lot."
"UNC is really like a family… I think the whole staff played at UNC or graduated from there. So the fact that everybody is coming back proves a lot about the school."
Cadeau could reclassify up
Cadeau, who turned 18 in September, has long been mentioned as a heavy reclass candidate. This means Cadeau has the option to forgo his senior year of high school and make the transition into the 2023 class, after completing the necessary credits. He would then be eligible to play for the Tar Heels beginning next college season.
However, Cadeau is pumping the breaks on making a decision on reclassification until after the AAU season, which concludes in July.
"I think it will be a last-minute decision," he said of reclassifying to 2023. "I think I'm staying in 2024 for now. Me and the coaches both bring it up. We're not trying to force anything because I've seen a lot of people reclass up and it not work for them."
Cadeau alluded to making the move to 2023 also was contingent upon which guards return to the team and which enter the NBA draft. In this case, Caleb Love and RJ Davis.
"If a school I really want to go to, if their point guard enters the draft out of nowhere, then I might be ready for that spot."
NIL Valuation
Elliot Cadeau currently holds an On3 NIL Valuation of $270,000. The On3 NIL Valuation is the industry's leading index that sets the projected annual value for high school and college athletes. A proprietary algorithm, the On3 NIL Valuation calculates an athlete's NIL value using dynamic data points targeting three primary categories, including performance, influence and exposure.
While the algorithm includes deal data, it does not act as a tracker of the value of NIL deals athletes have completed to date, nor does it set an athlete's NIL valuation for their entire career. The On3 NIL Valuation calculates the optimized NIL opportunity for athletes relative to the overall NIL market and projects out to as long as 12 months into the future.
A player's projected annual value is calculated by Roster Value and Brand Value.
Roster Value is a calculation of an athlete's respective value to their team. It is the amount an athlete hopes to receive primarily through a school's Collective.
Brand Value is generated when an athlete's performance, influence, and exposure combine to create awareness on a regional and national scale, creating advertising opportunities beyond Roster Value.
Scouting Summary
"The speed is what jumps off the page immediately with Elliot Cadeau," On3's Jamie Shaw writes. "He is a jet-quick, paint-touch point guard who gets into the paint when he wants. Cadeau is a confident jump shooter with deep range off the bounce and the catch. His size will be the question mark with him. He has good floor vision and a crafty handle to get his spots on the floor, but he does look to shoot first at times. He is a savvy floor general who exudes confidence throughout his team."