Mack Brown takes full responsibility, critical of message boards, media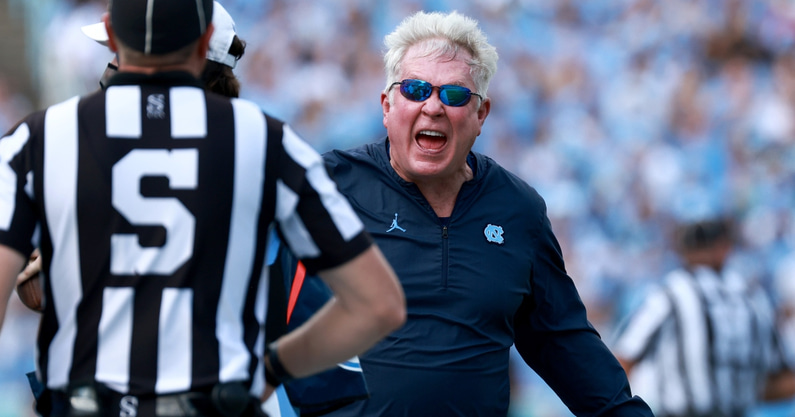 After being ranked No. 10 entering the season, North Carolina has been disappointing over the first six weeks. North Carolina head coach Mack Brown has not been shy about blaming the media for setting expectations that were "too high" on his team. But now, Brown went further, calling out message boards. Brown did go on to take full responsibility for his team's struggles this season.
"What you do, no different than all of us with families, you have to figure out how to handle it," Brown said. "If your son or daughter's down and they've messed something up, do you get on them? Do you pick them up? When everybody's getting on the players, do I have to pick them up but be honest with them and be very direct? So, it's just a combination of things. And hopefully my 33 years of experience will help us pull out of this thing."
Brown: North Carolina needs more consistency
A big part of today's world of sports is messaging boards. Fans of a team can all get together and talk about their favorite teams. But these message boards often include a lot of comments that call out coaches and players and call for jobs. While Brown is no stranger to that, the North Carolina coach said that it's different seeing it more easily than you could in the past.
"The same with the assistant coaches," Brown said. "Assistant coaches feel awful when they lose and then everybody says they should be fired. It's a hundred percent. If you took the message boards and a lot of the media across the country for every team that lost yesterday, just changed the names, but all the comments are the same. It's unbelievable how consistent it is about, 'he's an idiot, he should be fired. I can't believe these stupid fools don't know any better than this. Or why are they playing that quarterback.'
"It is what it is and I've seen it for 47 years so the only difference is now you can see it and hear it more than you could. When I first started you had to hear it walking off the field with somebody calling you an idiot."
Brown didn't shy away from taking on full responsibility for North Carolina's struggles. He took all of the blame, saying that everything within the program ultimately is his responsibility and he hasn't been good enough.
"But I think the thing is, there's a key to each team, there's a key to each kid, and my job right now is to step up, be strong, be positive, and try to find the key to this team that we haven't found yet," Brown said on how North Carolina can turn things around. "And the real key is consistency and why can't we get everybody to play at the same time. I don't know, and I'm working on it. I met along with the team yesterday, I met along with the staff yesterday. And I told them this is not good. It's unacceptable. We're disappointing to ourselves.
"We've done a great job of not letting one loss beat us twice. So, let's go back to work. Why don't we all play good on the same Saturday. That's legal, I checked it, we can do that. They allow us to. So let's do it. But it's a hundred percent my fault that they're not. I can duck it and say something else. I'm responsible for everybody that's hired here, I'm responsible for how they coach their players and we are responsible for how those players play… We're older and we've been around longer. We've got to help them and we've got to be more consistent as coaches to get our team to play more consistent than we've been. That's 100 percent no ducking, it is what it is."
The Tar Heels are 3-3 on the year and face Miami in Week 7 before a bye. Then, they must face Notre Dame, Wake Forest and Pittsburgh in the next three weeks.